Version 8.5 Boundary-Scan Tool Software is suitable for ScanExpress debugger.
Press Release Summary: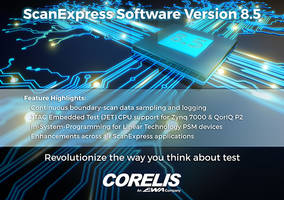 Version 8.5 ScanExpress™ Boundary-Scan Tool Software comes with two processor support packages for ScanExpress JET and multiple user interfaces. Unit supports for programming linear technology power system management devices in ScanExpress runner. Product features ScanExpress JET CPU packages for Xilinx Zynq-7000.
---
Original Press Release:
Corelis Introduces New Version 8.5 Boundary-Scan Tool Suite
New Software update includes Linear Technology PSM support, Continuous sample data logging, and new CPU support packages.
Corelis, Inc., the leading supplier of high-performance boundary-scan test and measurement tools, announced today the availability of version 8.5 of its ScanExpress™ Boundary-Scan Tool Suite. The new software update features support for continuous logging of sampled data to file in ScanExpress Debugger, multiple user interface enhancements for the ScanExpress Viewer fault identification system, improved MSP430 & NANDrive device support, two new processor support packages for ScanExpress JET, plus numerous improvements spanning the complete suite of ScanExpress software applications.
A brief list of software improvements includes:
ScanExpress Debugger can now continuously log sampled data to a file, allowing data sets to be recorded and stored for further analysis. For example, a set of boundary-scan pins can be sampled over time and the data can be imported into a data analysis application or waveform viewer.
Support for programming Linear Technology Power System Management (PSM) devices in ScanExpress Runner and ScanExpress Programmer (JTAG) using data files created by Linear Technology LTPowerPlay software.
New feature to erase the BSL section of MSP430F5xx devices, allowing custom bootloaders to be programmed using ScanExpress software and Corelis JTAG controller. 
Support for IEEE-1149.1-2013 BSDL files in ScanExpress TPG.
New ScanExpress JET CPU packages for Xilinx Zynq-7000 All Programmable SoC family devices and NXP QorIQ P2040 CPUs.
Many more enhancements, improvements, and updates across all software applications.
Existing Corelis customers with a valid maintenance contract can now access the new software version 8.5 through the Corelis support website. To inquire about a maintenance package or to obtain a full list of improvements, please contact the Corelis sales team at (562) 926-6727; or, send an email to sales@corelis.com.
As always, Corelis offers free training to all clients so that they may immediately utilize the various new product features and innovations now available. Class schedules and registration information can be found on the Corelis website at:
https://www.corelis.com/education/JTAG_Boundary-Scan_Seminars_and_Training.htm.
About Corelis
Corelis, Inc., a subsidiary of Electronic Warfare Associates, Inc., offers bus analysis tools, embedded test tools, and the industry's broadest line of JTAG/boundary-scan software and hardware products combining exceptional ease-of-use with advanced technical innovation and unmatched customer service. Since its founding in 1991, Corelis has delivered a diverse range of electronic test equipment solutions for customers across a wide range of industries, including aerospace, defense, medical, manufacturing, networking, and telecommunications. Today, Corelis continues that trend with focus on product ease-of-use and dedication to customer service.
More from Electronic Components & Devices