Versatility of XP Express® Supports Hundreds of Applications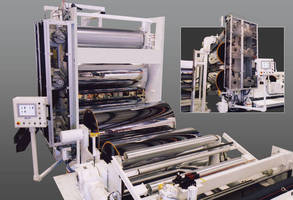 Pawcatuck, Conn.)--The XP Express® roll stand system from Davis-Standard, LLC has proven its worth in applications and efficiency. Available in PS (packaging sheet) and CS (custom sheet) models, this roll stand is used worldwide for processes involving PP, APET and PS for products used in the beverage and prepared food distribution markets. It is also equipped for extrusion processes involving EVA, TPA and vinyl acetate copolymers for solar energy applications. In the area of barrier structures, the XP Express is effective at processing sheet with more than 100 layers using layer multipliers for micro layer composites. Following is a summary of sheet types as well as end use applications for both models.

PS Model

This model is built for the packaging industry. It has a high capacity, highly efficient design with a reduced carbon footprint. It incorporates advanced technical features for direct extrusion, in-line thermoforming, or the production of roll stock for subsequent off-line thermoforming. The PS is capable of applications up to 8,000 pounds per hour and features hands-free dynamic roll gap control through the full product range.

CS Model

Like the PS model, this system is highly efficient with an ergonomic design, high processing rates and reduced carbon footprint. In addition, this model features a quick roll change design to accommodate custom embossed sheet.

Ancillary equipment for both roll stand models is integrated and designed based on individual application. Equipment includes lamination; rolls, baths and troughs for expanded cooling; post embossing, sheet conditioning on heavy gauge; dip tanks, roll coaters, and electrostatic for treating; web accumulators; slitting stations; thickness control; shear and stack; and single and multiple web winding.

For more information about the XP Express and Davis-Standard's sheet extrusion capabilities, contact Al Chrisbacher at achrisbacher@davis-standard.com.

More from Agricultural & Farming Products