Versatile Wash Line Equipment For Plastics Recycling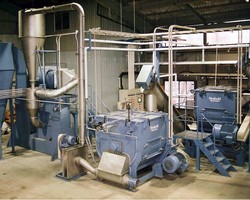 SMITHFIELD, RI - Herbold Meckesheim USA introduces an array of durable, efficient wash line equipment for recycling plastics. Used together for new plants or separately to replace or complement machines at existing recycling plants, several models of Herbold debalers, granulators, washers, shredders, separators, and dryers are available. As plastics recycling becomes more complicated due to increasing volumes, more contamination, new sorting procedures, automation, newly accepted types of plastic, etc., Herbold anticipates the needs of all plastics recycling facilities, whether they are processing soda bottles or car bumpers.

Herbold Debalers break down pressed bales or briquettes of bottles and other post-consumer plastic waste into single items for subsequent sorting. Other pre-wash equipment is available for detecting and removing metal and other foreign bodies.
Herbold Wet Granulators have water in their cutting chambers for the simultaneous washing and size reduction of feed material. A screen and/or dewatering screw separates the plastic fragments from much of the dirty washwater, paper (bottle labels, etc.), and other coarse contamination. Herbold High-Speed Shredders (modified impact hammer mills) can be used with water and added to a wash line when more intensive washing and shredding is necessary. They remove glues, coatings, paints, and labels.

For more washing, Herbold Friction Washers typically receive a slurry of plastic fragments and water from a wet grinder/granulator, but they are sometimes installed after separation tanks. Fed from the lower end of its inclined cylindrical trough, a Friction Washer makes use of a fast-running paddle screw to dewater and clean the fragments as they are transported to the outlet at the top of the trough.
Herbold Separation Tanks separate floating materials from sinking materials.

Fed by Herbold Mixing Tanks (turbo washers) and operating under pressure, Herbold Hydrocyclones, often used in recycling polyester (PET) bottles, accomplish the same task more effectively, especially when used in combination with a Separation Tank. Floating materials leave at the upper end of a Hydrocyclone with most of the water, while sinking materials are expelled from the lower end. This effect can be adjusted by changing the sizes of the outlet nozzles. Herbold also offers filters, pumps, and piping for recirculating washwater.

Herbold Mechanical Dryers centrifugally dry plastic fragments while spinning off some remaining contaminants, but they can also be used as intensive washers. The washing version uses a high-speed agitator and a high volume of water to remove paper and other contaminants. Herbold Thermal Dryers provide additional drying when necessary. For difficult-to-dry materials such as stretch film and foam, Herbold offers the HV Plastcompactor, which simultaneously heats, dries, and compacts.

Herbold Meckesheim USA, a subsidiary of Herbold Meckesheim Germany, designs, manufactures, and installs size-reduction equipment and wash line systems for the plastics industry, specializing in the recycling of industrial and post-consumer plastics. Components of the company's systems are designed as modular "building blocks" so that a system can be extended or modified according to the customer's requirements.  

For more information, contact
David LeFrancois
President, Herbold Meckesheim USA
Resource Recycling Center
333 George Washington Highway, Smithfield, RI 02917
Tel: (401) 232-3354,
FAX: (401) 232-5425,
E-mail:info@herboldusa.net
www.herboldusa.net.


More from Electrical Equipment & Systems