Versatile Mixers are built for efficient and effective operation.
Press Release Summary: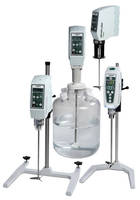 Designed for efficient and effective mixing in simple blending, solids suspension, high-viscosity, and gas-liquid applications, Lightnin GP2 (General Purpose) and Lightnin LB2 (LabMaster and BioMixer) use brushless DC motor and have automatic overload and over temperature protection. Impellers can be adjusted via stainless steel chucks and shafts. Facilitated operation and control ensure desired performance, which is bolstered via integrated digital control and feedback system.
---
Original Press Release:

New Models Add Further Versatility to the Lightnin Mixer Range



Through its Lightnin brand, SPX FLOW is a leading supplier of solutions that deliver superior mixing performance. It has been improving mixing processes for over 90 years and now introduces two new ranges to its portfolio to offer reliable, effective, flexible mixing solutions in laboratory and industrial applications.



ROCHESTER, USA – SPX FLOW has announced the release of two new mixing solutions from its Lightnin brand. Designed for applications such as simple blending, solids suspension, high viscosity and gas-liquid applications; the GP2 (General Purpose) and LB2 (LabMaster and BioMixer) use advanced Lightnin impellers for highly efficient and effective mixing.



To ensure long life and reduced maintenance overhead, both mixers use a brushless DC motor and have automatic overload and over temperature protection. Impellers can be quickly adjusted through the use of stainless steel chucks and though shafts. Easy operation and control to ensure desired performance is further assured through the use an intuitive integrated digital control and feedback system with chemical resistant, sealed keypad. Both products will be available globally.



Lightnin GP2 Mixer

The Lightnin GP2 mixer is designed for multifunctional open tank applications requiring speeds up to 2000 rpm with maximum 9 in-lbs (100 Ncm) torque. It offers clockwise and counter-clockwise operation with automatic reversing capability along with a countdown timer with automatic stop to assist operators. It is a flexible, easy to use, lightweight, compact solution using rod and universal clamping configurations. A low energy LED mixing light further helps the user by making the mixing process more visible.



Designed for reliability and ease of use, the Lightnin GP2 mixer is ideal in a wide range of applications including the pharmaceutical research and development environment, universities, metallurgical mining processes for leaching ore, and many pilot scale mixing to prove processes before scale up to full production.



Lightnin LB2 LabMaster and BioMixer Mixers

The Lightnin LB2 mixer models offer excellent, precise mixing performance with automatic dual speed transmission that provides constant torque over the whole speed range. They have a zero torque feature (similar to a tare feature on a scale) and operate at speeds up to 2500 rpm with a maximum torque of 40 in-lbs (450 Ncm). These mixers are ideal for use in areas including paints, polymers, adhesives, bench scale chemical reactions, pharmaceutical, cosmetic and biopharma applications.



The Lightnin LB2 LabMaster model has a choice of clamping systems; including rod, universal clamping and sanitary mounting, for flexible operation in both open and closed tank applications. The Lightnin LB2 BioMixer is designed for use in closed tank operations and offers easy upgrade from older models as it connects to all existing Lightnin BioMixer lower assemblies.



Summary

The GP2 and LB2 mixers are the latest additions to a wide range of innovative mixing and other processing technologies and services provided by SPX FLOW. They offer versatile, reliable and precise mixing solutions ideal for a wide range of applications. Comprehensive global support combined with the in-depth application knowledge and experience; give customers the confidence that choosing a Lightnin solution means they are getting the superior mixing performance for their application.



About SPX FLOW, Inc.:

Based in Charlotte, North Carolina, SPX FLOW is a leading global supplier of highly engineered flow components, process equipment and turn-key systems, along with the related aftermarket parts and services, into the food and beverage, power and energy and industrial end markets. SPX FLOW has approximately $2.5 billion in annual revenues and approximately 8,000 employees with operations in over 35 countries and sales in over 150 countries around the world. To learn more about SPX FLOW, please visit our website at www.spxflow.com.



CONTACT DETAILS

Sean Gleeson

Director Global Business Development & Portables

SPX FLOW, Inc

sean.gleeson@spxflow.com

TEL   +1-585-527-1350

www.spxflow.com