Vernon Series 82 degree CHAM-BIT
Press Release Summary: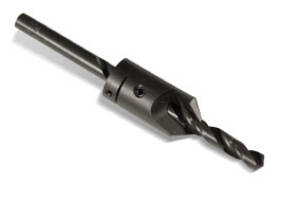 Series 82 degree CHAM-BIT converts twist drill into combination drill and 82° countersink suited for machining countersinks for flat head machine screws. Double edge cutter fits on clearance diameter of drill, enabling it to provide full and concentric countersink, while radial relieved cutting edges provide clean and chatter-free cutting. Tool can be positioned anywhere up and down flutes of drill and locked into position with 2 driving set screws.
---
Original Press Release:
Vernon Devices Introduces the Series 82 degree CHAM-BIT
Once again responding to the needs of its customers, Vernon Devices, is proud to introduce the newest member of our operation saving cutting tool family. Among the many advantages of this new tool is that it easily converts your standard twist drill into a combination drill and 82 degrees countersink that is ideal for machining countersinks for flat head machine screws. The double edge cutter fits snugly on the clearance diameter of your drill enabling it to provide a full and concentric countersink. The radial relieved cutting edges provide clean and chatter free cutting. It is fully adjustable as it can be positioned anywhere up and down the flutes of the drill and locked into position with two driving set screws provided. Available from stock in the most common machine screw clearance hole and tap drill sizes. For more details please visit our website www.vernondevices.com or contact us at [email protected] or 1-888-BURR-BIT (1-888-287-7248)