Veritas Offers Charge-Air Components Using Fortron® PPS Multifilaments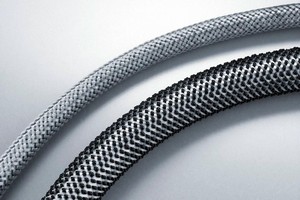 Florence, Ky., Sept. 11, 2007 - Veritas AG in Gelnhausen, Germany, has developed elastomeric hoses reinforced with Fortron® polyphenylene sulfide (PPS) multifilament to meet the performance demands of the highly stressed charge-air lines in diesel-engine turbochargers. The PPS, which is made by Fortron Industries LLC, a joint venture of Ticona Engineering Polymers and Kureha Corporation, allows for flexible hoses strong enough to withstand the high pressures, temperatures and vibration inherent in this application.

The Veritas charge-air hoses have three layers. The outer and inner layers use different elastomers depending on system requirements. The middle, load-bearing layer is a knitted fabric of Fortron PPS multifilament yarn, which enables these connecting hoses to absorb the critical loads imposed by forced movement, twisting and vibration as the turbocharger fixed to the engine block and the charge-air cooler anchored to the car body move in relation to each other.

"The charge-air line must withstand pressure, heat and such aggressive media as oil, lubricants and fuel for the life of the car," said Veritas development engineer Peter Kahn. "Although engine torque has risen dramatically in recent years, engine mountings are being designed increasingly 'soft' to provide for passenger comfort. This places added stress on other components, such as the charge-air line which must absorb up to 3 cm of inherent vibration. The PPS yarn has the strength, extensibility and thermal ability to handle the high internal pressures and temperatures of this application."

Veritas uses Fortron PPS multifilaments to reinforce two charge-air system hoses. One is a conventional smooth hose on the cold side, which leads from the charge-air cooler to the intake manifold. It normally operates at temperatures below 120°C (about 248°F) and sees peaks to 150°C (about 302°F).

The other is a corrugated hose on the hot side that connects the turbocharger to the charge-air cooler that must meet more challenging requirements. It is highly flexible yet withstands internal pressures to 2.1 bar and is designed so a short length absorbs and dampens vibration. It also tolerates operating temperatures of about 185°C (365°C) and peaks up to 200°C (392°F).

Fortron PPS is a high-performance polymer well suited to use in filaments, staple fibers and nonwovens because its linear structure provides superior performance in extrusion applications. Its mono- and multifilaments, staple fibers and nonwovens have continuous use temperatures to 200°C (392°C), inherent flame retardancy, excellent chemical and hydrolysis resistance and good processability. The many Fortron PPS grades available allow for applications in the automotive, chemical, papermaking, food and other industries.

For more information
For more information on Fortron PPS for use in filaments, staple fibers, nonwovens and other applications, contact: Ticona, 8040 Dixie Highway, Florence, KY 41042, USA. Phone: 1-800-833-4882. Email: prodinfo@ticona.com. In Europe: Ticona GmbH, Professor-Staudinger-Straße, D-65451 Kelsterbach, Germany. Phone: +49-(0)180-584-2662 (DE) or +49-(0)693-051-6299 (EU). Email: infoservice@ticona.de. Or visit: www.ticona.com.

About Veritas AG

Veritas is the oldest rubber manufacturer in Germany. It is globally active, employing some 3,000 people at six sites around the world - nearly half at its headquarters in Gelnhausen. In 2006, the Veritas Group achieved sales of around 366 million euros. With its expertise in materials and functions, Veritas is a competent partner to customers in the international automotive industry and is equally at home with elastomers, plastics or metal. In the area of fuel lines and charge-air systems, particularly, the company's strong engineering skills have created many proprietary developments. Last year, Veritas won an award for its use of new materials and a new geometry in underhood air ducting systems. These innovations made it possible to cut costs and save space at the same time. For further information, please visit: www.veritas-ag.de.

About Ticona and Celanese

Ticona, the engineering polymers business of Celanese Corporation, produces and markets a broad range of high performance products , and achieved net sales of $915 million in 2006. Ticona employs approximately 2,000 individuals at production, compounding and research facilities in the USA, Germany and Brazil. For more information, please visit www.ticona.com.

As a global leader in the chemicals industry, Celanese Corporation makes products essential to everyday living. Our products, found in consumer and industrial applications, are manufactured in North America, Europe and Asia. Net sales totaled $6.7 billion in 2006, with over 60% generated outside of North America. Known for operational excellence and execution of its business strategies, Celanese delivers value to customers around the globe with innovations and best-in-class technologies. Based in Dallas, Texas, the company employs approximately 8,900 employees worldwide. For more information on Celanese Corporation, please visit the company's website at www.celanese.com.

Fortron® is a registered trademark of Fortron Industries LLC.


More from Communication Systems & Equipment