Veo Sorters feature integrated Iso-Flo® vibratory infeed.
Press Release Summary: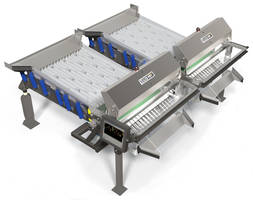 Available in Veo Max , Veo 16, 12 and 8 models, Veo Sorters automatically remove ears with remaining husk. Coupled with sensors and intelligent software for recognizing color, shape, size and texture, Veo 16, 12 and 8 offer maximum capacities of up to 3000, 2250 and 1500 ears of corn per minute respectively. Using Veo's 'Information Analytics', units enable collection of statistical data about product, defects and sort operation.
---
Original Press Release:
Key Technology Introduces Washdown-Rated Veo™ Sorters for Seed Corn Ears
Key Technology introduces a washdown option for its popular Veo™ family of seed corn ear sorters. Located downstream of the husker, Veo automatically removes ears with remaining husks as well as defects and foreign material (FM) from the product stream. The new washdown configuration features stainless steel construction and washdown-rated motors and housings for all electrical components to ease sanitation for processors with a washdown environment.
Key's washdown option is available on every Veo model including Veo 16, 12 and 8 as well as Veo Max, with single-sided or double-sided inspection and either two-way or three-way sorting. The family of Veo sorters inspects from 1500 to 4500 ears of corn per minute to meet the needs of every seed corn ear processor operating any husker of any size. By automating inspection, Veo sorters maximize product quality and improve process efficiency while reducing husk room labor by 75 percent or more.
Veo sorting systems feature an integrated Iso-Flo® vibratory infeed designed specifically for seed corn ears. Leveraging Key's extensive product handling expertise, the infeed is a critical aspect of the sorting system that receives the output from the husker and arranges the ears in a singulated monolayer for optimal presentation to the sorter's vision system. Providing an ideal view of each object maximizes the effectiveness of the Veo inspection process.
Key's proprietary sensors, coupled with intelligent software, recognize color, shape, size and texture to detect and remove ears with husk remaining, even when the husk is the same color as the kernels. Veo can sort any size and variety of seed corn ear, including yellow corn on red cob, yellow corn on white cob and white corn on white cob. It detects multiple mold colors. Compared to manual inspection, Veo identifies more subtle visual characteristics and maintains better consistency over time, achieving a sorting efficiency of up to 98 percent.
For husk sorting, the user defines the exact amount of husk coverage that is desired to actuate Veo's reject system. Users can also define Veo's accept/reject thresholds to pass or remove rogue ears, immature ears, bare or partially bare cobs, diseased kernels and ears with mold, stalks, shanks and nubbins as well as small trash like stones and other organic and inorganic FM from the product stream.
All Veo sorters are available with top-mounted sensors for single-sided viewing or top- and bottom-mounted sensors for two-sided viewing, with double-sided inspection providing the highest detection capabilities. All are available as two-way or three-way inspection systems. With three separate discharge streams, seed corn processors dedicate one reject stream to removing unhusked ears, which are routed back to the husker, while the second reject stream is dedicated to waste product and FM, leaving the accept stream to receive only good ears ready to go on to further processing. Two-way Veo sorters can easily and economically be upgraded in the field to the three-way configuration.
Veo is easy to install and easy to use. Key designed Veo to fit through a standard door frame with minimal changes to existing husk room layouts. "We can install, train and start sorting in the same day. With only two hours of training, a new operator will be 100 percent proficient. It's an intuitive process to manage the sort parameters via the graphical user interface on the touchscreen control panel," noted Marco Azzaretti, Advanced Inspection Systems Product Manager at Key Technology.
Veo sorters can be controlled individually or networked to enable multiple sorters to be managed at the same time, including remotely. Veo's real-time and on-demand diagnostics minimize costly downtime and alert the operator about conditions that could compromise inspection performance. Veo's 'Information Analytics' function enables the collection of statistical data about the product, defects and sort operation.
Prior to the introduction of the first Veo in 2010, seed corn processors relied largely on laborers to inspect ears after the automated husking operation and remove ears with significant husk remaining. Excess husk can inhibit the downstream drying process and affect seed quality. Attending to a 16-lane husker, which typically requires five to eight laborers without Veo, will need only one or two laborers with Veo. Ears with residual husks are gently deflected to prevent kernel loss as they are circulated back to the husker.
The typical line configuration has a Veo sorter dedicated to an upstream husker.Veo 16, 12 and 8 offer maximum capacities of up to 3000, 2250 and 1500 ears of corn per minute respectively to handle the throughput of 16-, 12- and 8-lane huskers. Veo Max offers an alternative line configuration by enabling the output of multiple huskers to be consolidated and fed to a single high-capacity sorter that can inspect up to 4500 ears of corn per minute.
For more information about the Veo family of sorters, visit www.key.net/products/veo.
About Key Technology, Inc.
Key Technology (NASDAQ: KTEC) is a global leader in the design and manufacture of automation systems including digital sorters, conveyors and other processing equipment. Applying processing knowledge and application expertise, Key helps customers in the food processing and other industries improve quality, increase yield and reduce cost. An ISO-9001 certified company, Key manufactures its products at its headquarters in Walla Walla, Washington, USA; Beusichem, the Netherlands; Hasselt, Belgium and Redmond, Oregon, USA. Key offers customer demonstration and testing services at five locations including Walla Walla, Beusichem and Hasselt as well as Sacramento, California, USA and Melbourne, Australia, and maintains a sales and service office in Santiago de Queretaro, Mexico.
Reader Inquiries:
Anita Funk
Key Technology, Inc.
150 Avery Street
Walla Walla, WA 99362 USA
Tel: +1 509 529 2161
Fax: +1 509 527 1331
More from Services