Venturi Vacuum Cartridges replace multi-stage pumps.
Press Release Summary: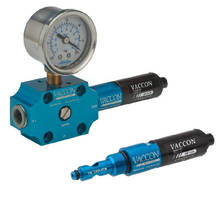 Suited for packaging industry, RTM Series™ replaces failed or clogged multi-stage pumps to maximize productivity and minimize downtime. Single stage cartridges thread directly into existing multi-stage pumps and vacuum grippers, allowing dirt, dust, and debris to pass through. With no obstacles to impede flow or trap dirt, pumps never lose suction, require filters or maintenance. Cartridges are available in 11 performance levels, up to 3.2 scfm vacuum flow and 28 in. Hg vacuum level.
---
Original Press Release:

New Interchageable Maintenance-Free Venturi Vacuum Cartridges and Pumps Save Time and Money



Vaccon's New Interchangeable, Maintenance-Free Cartridges Replace Multi-Stage Pumps



Medway, MA — Vaccon Company, a U.S. manufacturer of air-powered venturi vacuum pumps, introduces the new RTM Series™ of maintenance-free venturi cartridges. Ideally suited for the packaging industry, RTM cartridges replace failed or clogged multi-stage pumps to maximize productivity and minimize downtime. Unlike multi-stage cartridges, Vaccon's single stage cartridges allow dirt, dust and debris to pass through the pump without clogging. RTM cartridges thread directly into existing multi-stage vacuum pumps and vacuum grippers for immediate, reliable, trouble-free operations.



Vaccon's advanced venturi design generates high internal velocities that carry dirt through and out of the pump. With no obstacles to impede flow or trap dirt, Vaccon pumps never lose suction, require filters or maintenance. Multi-stage pumps operate using flap valves that clog from ingested debris.



Filters are required to protect the flap valves. Screens are added to vacuum cups to protect filters. Any or all of these parts can clog, causing loss of suction. Loss of suction causes production to stop until maintenance is performed and/or pump and filter replacement occurs. Vaccon RTM high performance Mid Series cartridges operate continuously without maintenance, costly filters or cup screens, eliminating downtime, increasing productivity and improving profitability.



Available as a complete pump assembly or just the threaded cartridge, Vaccon's RTM Series is directly interchangeable with installed multi-stage units or vacuum grippers, eliminating the need to retool existing production equipment. Simply remove the threaded multi-stage cartridge and screw-in the Vaccon RTM single-stage replacement. Full pump units can be exchanged in minutes in many cases.



The RTM Series are manufactured in 11 different performance levels, up to 3.2 SCFM [90.6 LPM vacuum flow and 28" Hg [948 mbar vacuum level. Options include top or face mounted extrusion mounting kits, vacuum gauges, switches and sensors. Vaccon offers a free Cost of Ownership analysis report to illustrate the maintenance savings possible when replacing multi-stage pumps with Vaccon RTM equivalents.



About Vaccon

Founded in 1972, Vaccon Company engineers and manufactures air-powered venturi vacuum pumps, cups, accessories & end-of-arm tooling for the robotics, automation and process control industries. From pick & place to leak testing to vacuum sealing, our diversified customer base includes every major industry segment, Fortune 500 manufacturers and many OEM's (Original Equipment Manufacturers) and systems integrators.



Vaccon vacuum pumps are designed to increase production, minimize downtime, improve quality and overall profitability. Our single-stage venturi pumps feature a straight-through, in-line design that ensures consistent, reliable and maintenance-free operations even in the most adverse environments. We believe in innovation through collaboration and are pleased to offer custom products in any size, shape, material or quantity required.



As vacuum technology experts, we provide free technical support, application assistance and video demonstrations. Vaccon vacuum pumps are made in the USA and available through an independent distributor network throughout the U.S., around the world and on the web at www.vaccon.com. Vaccon vacuum products are the "air force" for automation.



For further information contact:

Vaccon Company

Chris Marotta, Marketing Communications Manager

9 Industrial Park Road

Medway, MA 02053

(508) 359-7200, US (800) 848-8788, Fax (508) 359-0177

Email: cmarotta@vaccon.com

http://www.vaccon.com/RTM-Series.aspx

Related