Gas and Chemical Sensors / Detectors
Ventilation Control features ETL certification.
Press Release Summary: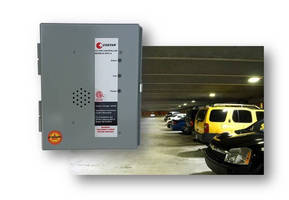 Equipped with electrochemical sensor and microcomputer-based CO detection circuit, COSTAR® 24VC-e monitors unsafe levels of carbon monoxide in parking garages to protect building's occupants. Ventilation control saves energy by activating fan only when required to maintain air quality. Featuring calibration-free design, unit self-tests electronic circuit and signals fault warning if malfunction is detected. Product meets UL standard 2075 and adheres to strict NIOSH requirements.
---
Original Press Release:

Announcing the ETL Certification of the New Generation of COSTAR® Ventilation Controls!



ETL CERTIFIED

The ETL Listed Mark is proof that the COSTAR® 24VC-e has been independently tested and meets the UL published standard 2075.The ETL Mark is proof of product compliance to North American safety standards. End users recognize ETL certification as a symbol of safety. Authorities accept the ETL listed Mark as a proof of product compliance to published industry standards.



ETL product safety certification program includes the same testing, listing, labeling, and follow-up inspection services as competing certification marks (such as UL, CSA, and others)



ENERGY SAVING

Powerful continuously running ventilation systems raise your energy usage sky high and result in huge electric bills. The COSTAR® 24VC-e lowers operating costs by activating the fan only when required to maintain good air quality while enhancing safety by alarming if dangerous CO conditions are detected. In fact, in many cases, installation of CO monitoring and ventilation systems can generate up to 85% savings in energy costs. COSTAR® 24VC-e ventilation control solution monitors unsafe levels of carbon monoxide (CO) in your parking garage to protect the health and well-being of your building's occupants. It is essential to keep your parking structure properly ventilated to eliminate carbon monoxide.



SAFETY PRODUCT

COSTAR® 24VC-e carbon monoxide detecting ventilation fan controller is designed for use where ventilation fans are needed to prevent dangerous accumulations of carbon monoxide (CO) from engine exhaust or combustion appliances. The COSTAR® 24VC-e features an electrochemical sensor and a microcomputer-based CO detection circuit. The microcomputer provides overall supervisory control.



It measures CO level and calculates CO dose. It also self-tests the internal electronic circuit and signals a fault warning if a malfunction is detected. Ensure safety of your building workers and occupants by installing our new COSTAR® 24VC-e ventilation control. The product adheres to the strictest NIOSH requirements.



MAINTENANCE FREE

COSTAR® 24VC-e, unlike many competitors' products, is calibration free. Just replacing the sensor every 3 years saves a lot of maintenance cost. Each individual sensor is factory calibrated. Neither expensive field adjustments nor calibration kits are required. Compare to purchasing $400-$800 calibration kits every 8 months to 1 year and you get some real savings.



A signal indicating sensor replacement is given when necessary. There is a 12 Year PC board end-of-life. The unit will give a warning 60 days prior to the PCB end-of-life.



Although only required for systems that are connected to a central panel these units have in field CO test capability. When the test button is pressed, the unit goes into an accelerated test mode for about 10 minutes and will beep 3 short 100 millisecond beeps once before going into the test mode. In this mode, there are no delays associated with the fans or siren. This allows someone to spray some CO on the sensor and see how it responds. After testing the unit returns to normal operation and will beep 2 short 100 millisecond beeps before returning to normal operation.



Contact American Ventilation Control Systems today for a healthier tomorrow and a growing business opportunity.

11211 Sorrento Valley Rd Suite Y

San Diego, CA 92121 USA

Phone: 858-587-8803

Fax: 858-587-8804

Toll Free:  844-587-8803

Web: www.avcsystems.us

Email: cs@avcsystems.us





More from Materials