Ventilating Fans help promote green initiative.
Press Release Summary: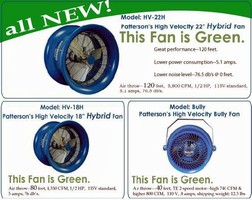 Using 0.7 A of power, 10 in. Bully provides air movement up to 40 ft away. Gill was added to hull of 18 and 22 in. size fans, resulting in Hybrid fans that require only 5.1 A as compared to 6.0+ A for similar fans. To minimize noise levels, decibels were reduced from 80 dba to 72 and 76.5 dba for 18 and 22 in. fans respectively.
---
Original Press Release:

Patterson Fan Introduces 3 Products to Assist Companies Turning "Green"



BLYTHEWOOD, SC -- Patterson Fan, a Blythewood company headed by CEO Vance Patterson, has recently introduced 3 products designed for companies interested in promoting "green" initiatives.

"Green" programs are forefront in the boardrooms of many of the nation's largest manufacturers and distributors. Product development led to the design of the Bully, a small, 10-inch blade fan that uses 0.7 amp of power to provide air movement up to 40-feet away.

"We needed a fan to compete favorably against inefficient cage fans," stated Jim Whittle, Patterson's Director of Marketing. "Amp for amp this fan is the best and it operates below background noise levels."

Research driven by customer requests for even more efficient "blue fans," as they are known by customers since 1989, led to modifications in the design of Patterson Fan's two best selling fan models, the 18-inch and the 22-inch sizes. A "gill" has been added to the hull of the originals.

The resulting Hybrid fans give users a 16% reduction in amps. (5.1 amps compared to industry standards for similar looking fans of 6.0+ amps) Another benefit to this product enhancement is a reduction in decibels from 80 dba to 72 and 76.5 dba for the 18" and the 22" fans, respectively.

"As a company, we promote the value of using fans efficiently to enhance air movement and ventilation in manufacturing and distribution facilities. Our products help customers achieve their goals by moving columns of air, at high velocity, over long distances," Patterson said. "The Hybrid design has been two years in process and we are pleased with how the performance fits into our philosophy."

"The total energy savings on the fans our customers use will be in millions of kilowatt-hours," stated Jack Davenport, Patterson's Director of Sales.

Their philosophy of working with their customers to improve employee working conditions has led to several innovative, customer-focused programs. The success of these programs, in their early years, led to Patterson Fan's selection as #160 on the 1993 Inc. 500 Fastest-Growing Privately Owned Companies in America list. A feat Patterson later duplicated with Patterson Ventilation's 2003 inclusion on the list at #471.

Patterson Fan was established in 1989 and is a Manufacturer of high velocity & ventilation fans & portable evaporative coolers. Products include power tubes, truck coolers, heaters, roof cooling systems, blowers, air circulators, ventilation equipment & roof ventilators. Also a supplier of HVLS high volume low speed large industrial ceiling fans.

More from Electrical Equipment & Systems