Vent Guard stops toxic plumbing stack sewer gas migration.
Press Release Summary: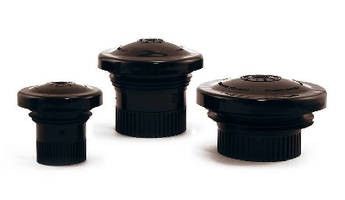 Available to fit 2, 3, and 4 in. diameter commercial building plumbing vent stacks and restaurant grease interceptor vents, SureSeal® Vent-Guard eliminates toxic sewer gas and odor egress and migration to nearby rooftop HVAC system air intakes. Maintenance-free product is constructed of EPDM rubber that withstands temperatures from -50 to 150°F. Design uses non-mechanical hinged flapper that allows airflow in while eliminating infiltration of insects, animals, and inclement weather.
---
Original Press Release:

RectorSeal's SureSeal® Vent-Guard Stops Toxic Plumbing Stack Sewer Gas Migration to HVAC Units



Houston--RectorSeal® Corp., a leading manufacturer of quality plumbing and HVAC/R products, introduces SureSeal® Vent-Guard, the industry's first plumbing vent stack device for eliminating toxic sewer gas and odor egress and migration to nearby rooftop HVAC system outdoor air intakes.



The patent-pending Vent-Guard is available in three sizes designed to fit 2, 3, and 4-inch-diameter (I.D.) commercial building plumbing vent stacks and restaurant grease interceptor vents.



The Vent-Guard introduces outdoor air via its sturdy, non-mechanical hinged flapper that automatically opens during vacuum occurrences caused by a vent stack pressure imbalances events, such as toilet flushes. Otherwise, the flapper remains tightly sealed during a vent stack's routine state of neutral pressure. The closed flapper eliminates heavier-than-air gas and odors from escaping the vent stack and traversing the roof where they can infiltrate nearby HVAC systems outdoor air intakes and potentially contaminate the building's indoor air quality (IAQ) efforts. Sewer gas is a dangerous threat to public health and believed to cause and spread deadly diseases, such as SARS and Legionnaires' Disease.



The maintenance-free SureSeal Vent-Guard is constructed of sturdy EPDM rubber. The Vent-Guard top is infused with carbon black  that is resistant to ultraviolet (UV) light. It is a quick, easy and inexpensive alternative to charcoal filter vent stack attachments that require periodic cleaning and replacement.



Vent-Guard's unique design allows airflow in and eliminates insect, animal, inclement weather, bird nesting infiltration. Installing Vent-Guard requires a quick and easy push-fit into the vent stack opening. Removal is equally quick and easy.



Vent-Guard is the second of many future introductions to the SureSeal product line, which originated with ASSE-1072-certified SureSeal  waterless floor drain trap seals that are now manufactured and distributed by RectorSeal since acquiring the SureSeal brand in 2014.



Other Vent-Guard features are:




five-year warranty guarantee;



EPDM rubber construction withstands temperatures of -50°F to 150°F;



quality performance tested by QAI Laboratories, Rancho Cucamonga, Calif., a third-party testing and certification organization for the building industry;



and RectorSeal's 78-year experience and quality-control in making the finest plumbing and HVAC/R chemicals and products.



For more information on RectorSeal or its products, please visit www.rectorseal.com, call (800) 231-3345 or email marketing@rectorseal.com.



About RectorSeal: The RectorSeal® Corporation is a leading manufacturer of chemical and specialty products designed for professional tradesmen. Steady growth over the years has been maintained through a commitment to providing high quality products and services. With a diversified business strategy, RectorSeal aggressively pursues new and unique technologies to serve the plumbing, heating, air conditioning, electrical and construction industries. The RectorSeal Corporation is devoted to providing innovative quality products supported by strong customer and technical service. For more information,  visit www.rectorseal.com, email: marketing@rectorseal.com or call (800) 231-3345.

More from Material Processing