Veneer Sheets and Edging come in diverse wood varieties.
Press Release Summary: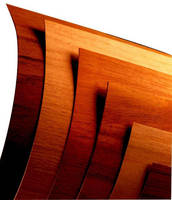 Real Wood Veneer Sheets comprise book matched, sanded, and tenderized; 1/42 in. thick; genuine wood veneers permanently bonded under heat and pressure to paper backing. Offered in nearly 30 wood species in several types of veneer cuts, sheets come with or without peel and stick adhesive backing in 2 x 8 ft and 4 x 8 ft sizes. Real Wood Veneer Edging is manufactured in finger- and butt-jointed; 250, 500, and 1,000 ft; fine sanded; stainable continuous rolls. Various wood species are available.
---
Original Press Release:

Outwater Introduces its Real Wood Veneer Sheets & Real Wood Veneer Edging



Bogota, NJ (www.outwater.com) — Outwater's [Outwater Plastics Industries, Inc. + Architectural Products by Outwater, LLC] has you completely covered from surface to edge with the introduction of its Real Wood Veneer Sheets and Real Wood Veneer Edging to complement its huge array of available trims and surfacing products.



Outwater's Real Wood Veneer Sheets comprise book matched, sanded and tenderized 1/42-in. thick genuine wood veneers permanently bonded under heat and pressure to a paper backing, which acts both to affix the veneer to the surface to which it has been adhered and as a two-sided barrier, which not only prevents adhesives from permeating the veneer's surface, but also to thwart finishing materials from affecting the adhesive's bonding agent.



Available in nearly thirty different wood species in several types of veneer cuts, which impart various visual effects and characteristics, Outwater's Real Wood Veneer Sheets are offered both with and without peel & stick adhesive backing in 2-ft. x 8-ft. and 4-ft. x 8-ft. sheets.



In conjunction with its Real Wood Sheets, Outwater also offers Real Wood Veneer Edging, manufactured in both finger-jointed and butt-jointed 250-ft., 500-ft. and 1,000-ft. fine sanded, stainable continuous rolls.  Outwater's Real Wood Veneer Edging is produced in 7/8-in. fleece backed, 13/16-in. preglued and ½-in. to 1-1/2-in. peel & stick adhesive backed varieties in an assortment of wood species.



For further product information, please click the enclosed links:



Link #1: Outwater's Real Wood Veneer Sheets



http://www.outwatercatalogs.com/lg_display.cfm/catalog/Master_2012?useSearchForm=single&page=670



Link #2: Outwater's Real Wood Veneer Edging



http://www.outwatercatalogs.com/lg_display.cfm/catalog/Master_2012?useSearchForm=single&page=23



About Outwater [Outwater Plastics Industries, Inc. + Architectural Products by Outwater, LLC]: Outwater can be contacted Toll Free at 1-800-631-8375 (For sales and product information in the USA & Canada) / 1-201-498-8750 (For sales and product information outside of the USA & Canada) or viewed online at www.outwater.com



From the vendor of a single product in August 1972, Outwater, with sales and distribution facilities in New Jersey and Arizona, is recognized today as a well established international manufacturer and stocking distributor of more than 65,000 standard and innovative component products required by woodworkers, cabinet and furniture manufacturers, builders, remodelers, designers, architects, point-of-purchase and display fixturing manufacturers, OEM's, as well as a diversified range of other commercial and retail end users.



Major Product Categories include Plastic & Aluminum Extrusions; Lighting and Lighting Accessories; Furniture, Cabinet & Store Fixture Components; Knobs & Pulls; Casters; Fasteners; Laminates; The FOGA Exhibit & Display Fastening System; The Klem Connector; Literature Displays; Slatwall; Sign Holders; P.O.P Components; Display Motors & Turntables; Pedestals; Injection Molded Parts; Brass Tubing & Fittings; Surfacing Materials; Interior & Exterior Polymer & Wood Architectural Mouldings & Millwork; ORAC DECOR and DEM Architectural Mouldings & Millwork; Columns & Capitals; Balustrading; Wrought Iron Components; Decorative Stamped Steel & Polymer Ceiling Panels; Wainscoting; Wall Coverings; Fireplace Surrounds; Plastic "Glass" Block; Period & Contemporary Hardware; Kitchen & Bath Accessories; Kitchen & Bath Cabinetry and Vanities… and so much more!



Contact:

Joey Shimm, Director of Marketing

Outwater Plastics Industries, Inc. + Architectural Products by Outwater, LLC

(201) 498-8750

More from Agricultural & Farming Products