Vehicle Radiators offer economic options to original parts.
Press Release Summary: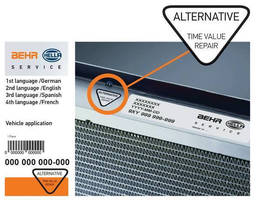 Targeting specific vehicles, Alternative radiators are available as options to original spare parts. Specific applications for these radiators include vehicles from Audi, BMW, Mercedes, and VW and model years ranging from 1998 to 2010. All products are made to OE specifications regarding vehicle-specific fit, form, and function.
---
Original Press Release:

Behr Hella Service Introduces Alternative Radiator Line to Satisfy Economic Consideration



Peachtree City, GA – Behr Hella Service, a joint venture for thermal management between Behr (vehicle air conditioning and engine cooling) and HELLA (lighting technology and electronics) now features an alternative line of radiators in a lower price segment to meet practical economic considerations. The alternative line makes perfect economic sense when repairing older passenger cars and keeps the cost of repair in line with current values.



The new line is aimed at specific vehicles and is available as an alternative to the original spare parts that are being offered simultaneously. For easy identification and to distinguish them from original Behr Hella Service spare parts, the Alternative radiator line is provided with separate part numbers and clearly labeled as "Alternative."



With the new alternative line, Behr Hella Service, is giving repair shops the opportunity to promote their quality consciousness in harmony with the requirements of the market.



Application for the new line includes a wide selection of popular vehicles from Audi, BMW, Mercedes, and VW with model years ranging from 1998 to 2010.



Behr Hella Service products are made to OE specs for vehicle specific fit, form, and function. The line includes resistors, engine/transmission oil coolers, compressors, retrofit kits, vacuum elements, pressure switches, PAO-Oil 68, receiver dryers, expansion valves, condensers, condenser/radiator fans, HVAC blowers, evaporators, Visco®-fans, heater cores, radiators, expansion tanks, and Visco® clutches and more. The new catalog is available in a printed version as well as online. Additionally, all data is in ACES through Epicore and WHI.



About Behr Hella Service

Behr Hella Service is a joint venture between Behr, a specialist for vehicle air conditioning and engine cooling, and HELLA, a specialist for components and systems for lighting technology and electronics. The company was founded to serve the worldwide independent aftermarket for vehicle air conditioning and engine cooling. The joint venture, of which Behr and HELLA each have a 50% share, combines the Behr Service activities for the independent aftermarket and the air conditioning business of the HELLA aftermarket organization. The combination of HELLA's worldwide sales organization with Behr's product know-how is a natural progression of the already existing cooperation between Behr and HELLA in the field of climate control and front-end modules.



About HELLA, Inc

HELLA, Inc., located in suburban Atlanta, GA, is the North American aftermarket sales and distribution headquarters for HELLA KGaA Hueck & Co.  HELLA, Inc. provides world-class aftermarket and special OE support to automotive, marine, and heavy-duty accounts in the U.S., Canada, Central America, South America and the Caribbean. For more information, visit www.hellausa.com.



HELLA KGaA Hueck & Co., Lippstadt: The automotive parts supplier develops and manufactures components and systems for lighting technology and electronics for the automotive industry. In addition, joint venture companies also produce complete vehicle modules, air conditioning systems and vehicle electric systems. HELLA has one of the largest aftermarket organizations in the world for automotive parts and accessories, with its own sales companies and partners in more than 100 countries.



The consolidated annual sales of the HELLA Group are around 5 billion euros. HELLA is one of the top 50 automotive parts suppliers in the world and one of the 100 largest industrial companies in Germany. More than 25,000 people work in 70 manufacturing facilities, production subsidiaries and joint ventures all over the world. Approximately 3,000 engineers and technicians work in research and development throughout the company group. Customers include all leading vehicle and system manufacturers, as well as the automotive parts aftermarket. For more information, visit www.hella.com.



Behr Hella Service alternative radiator line is offered at a lower price segment for economic considerations when servicing older vehicles.



www.hellausa.com



Media Contact:

Martin Ngwenya

HELLA, Inc

(877) 22-HELLA

Martin.Ngwenya@hella.com



Tony Barolin

Barolin & Spencer

800-536-6222

tbarolin@barolin-spencer.com

More from Material Handling & Storage