Vehicle Navigation Systems include traffic message channel.
Press Release Summary: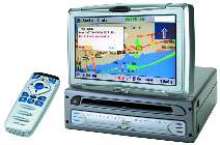 VDO Dayton Navigation System, with Traffic Message Channel technology, can route drivers around traffic delays before traffic incident has been reached. Receiving real-time traffic information through FM band via RDS technology, system alerts driver of situation with verbal and visual input and gives driver option to go around delay while calculating best alternate route. TMC broadcast information is provided on subscription basis.
---
Original Press Release:

Siemens VDO Automotive Introduces Traffic Message Channel (TMC) Capabilities in Latest VDO Dayton Navigation Systems


- New systems route drivers around traffic delays -

Allentown, PA - Siemens VDO Automotive, one of the world's leading suppliers of automotive electronic/electrical systems and components has added "Traffic Message Channel" (TMC) capabilities to its VDO Dayton line of vehicle navigation systems.

With TMC technology, the navigation system can route drivers around traffic delays automatically, before the traffic incident has been reached. If a traffic delay develops along the driver's planned route, the Traffic Message Channel (TMC) automatically notifies the VDO Dayton navigation system of the incident. The navigation system then alerts the driver of the situation with verbal and visual input. It gives the driver the option to go around the delay and automatically calculates the best alternate route. The VDO Dayton system shows the driver real time traffic information both through on-screen text alerts as well as with images overlaid on the moving map display. The system receives real time traffic information through the FM band via RDS (Radio Data Service) technology.

According to Hannes Luettringhaus, Product Manager, Audio & Navigation for Siemens VDO Automotive Service & Special Solutions, "By combining real time traffic alerts with the fastest navigation technology available in the aftermarket, our VDO Dayton systems allow drivers to keep moving, even when their planned route experiences traffic delays. The beauty of the TMC capability is that it can guide drivers around traffic, before they're caught in the delay. This is a tremendous asset for professional and commercial drivers as well as consumers. The integration of TMC now dramatically increases the value of navigation as a daily driving convenience and safety feature.

Broadcast of the RDS/TMC traffic and travel information is delivered through a partnership between Tele Atlas (a provider of digital maps and dynamic location content) and Clear Channel Radio (a provider of traffic reports and roadway data to radio, television, and internet). The navigation system technology and hardware that make this innovation possible was developed by Siemens VDO Automotive, which produces navigation systems for original equipment, aftermarket, and fleet applications.

"Thanks to our innovative C-IQ technology, our experiences in using TMC in Europe for the past several years, and our partnership with Clear Channel and Tele Atlas, Siemens VDO Automotive has been able to develop this application for the US market and launch it in less than six months," adds Luettringhaus.

The new real time traffic information system is available in all new VDO Dayton navigation systems. In most cases, drivers who currently own VDO Dayton navigation systems may add RDS/TMC capability to their systems with the addition of a TMC receiver, a system software update, and a new map release.

TMC broadcast information is provided on a subscription basis. TMC system activation and the first three months of service are free with the purchase of the VDO Dayton TMC receiver or a new VDO Dayton Navigation system. Extended subscriptions are available in one and two year increments. A one-year service contract costs $59.90 ($4.99/month). Two years are available for $95.90 ($4.00/ month). Activation and subscription renewal can be made via online: c-iq.net or by calling 877-EZ AS CIQ (877-392-7247). TMC is now available in 48 of the top 50 U.S. markets, 24 hours a day, and 365 days a year.

Siemens VDO Automotive is one of the world's leading suppliers of electronics, electrics and mecha-tronics to the automotive industry. In the 2004 business year (30.9.), Siemens VDO Automotive generated sales of $11.6 billion (EUR 9.0 billion) with 48,070 employees. The service and trading activities, the special original equipment manufacturing as well as all content software business for navigation systems are bundled within the Service & Special Solutions business unit.

With the VDO, VDO Dayton and Siemens VDO product brands, the company's portfolio ranges from car navigation, car multimedia and sophisticated car audio systems to telematics solutions for private and public vehicle fleets. Industrial and marine products for original equipment manufacturers with low volumes or special requirements, genuine brand replacement parts, and spare part service for end of production vehicles complete the product portfolio.

The Service & Special Solutions business unit is one of the leading service and trading companies in the automotive market. With 2,600 employees the business unit runs separate production and development locations and is present in 80 countries and all relevant distribution channels.

More from Machinery & Machining Tools