Vehicle-Mount LED Light produces 3,600 lm and draws 4 A.
Press Release Summary: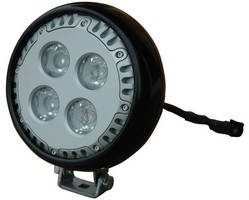 Suited for military and law enforcement applications as well as industrial heavy equipment, PML-40W-PAR46 comes in red, amber, green, blue, IR, and UV as well as spotlight and floodlight configurations. Permanent mount 40 W vehicle light is equipped with MILSPEC 461 certified PAR46 LED bulb and has waterproof fixture fitted with adjustable hinged mounting bracket. Product operates from 9-46 Vdc, supporting direct connection to vehicles with 12 or 24 V electrical system.
---
Original Press Release:

Larson Electronics Magnalight Announces Release of 3600 Lumen Vehicle Mount LED Light



Larson Electronics' Magnalight.com has announced the release of the PML-40W-PAR46 vehicle mount LED light designed to provide a rugged lighting solution for those seeking to improve the performance of exterior illumination on cars, trucks, and military vehicles. Producing 3,600 lumens and available in multiple colors as well as infrared configurations, these lights are ideal for military and law enforcement applications as well as installation on industrial heavy equipment.

The Magnalight PML-40W-PAR46 vehicle mount LED light offers operators in military, law enforcement and professional utility and industrial services a powerful low amp draw alternative to traditional incandescent equipment and vehicle lights. Equipped with Magnalight's MILSPEC 461 certified PAR46 LED bulb, this permanent mount LED vehicle light produces more light than comparable halogen lamps while consuming far less power. This 40 watt LED light draws only 4 amps, yet produces over three times as much light as a comparable 50 watt halogen off road light. This extreme efficiency means you can replace three halogen lights with one PML-40W-PAR46 and produce more light while cutting amp use and extending run times without draining the vehicles battery. This LED light is designed to operate with voltages ranging from 9 to 46 VDC, which allows users to connect it directly the any vehicle, heavy equipment, or military vehicle with a 12 or 24 volt electrical system. The LED lamp is housed within a rugged waterproof fixture to resist damage from the elements, and is fitted with an adjustable hinged mounting bracket. This light can be mounted with a single bolt or stud to bumpers, roll bars, turrets, and just about any surface you would normally mount auxiliary lighting. Once mounted, the user can adjust the lamp vertically and lock it into position for precise aiming and stable positioning even under aggressive driving conditions. Magnalight also offers these lights in a variety of colors and configurations including red, amber, green, blue, infrared and ultraviolet as well as in spotlight or floodlight configuration. A simple two pin Deutsch connector makes hooking the lamp up a simple affair and allows operators the ability to easily disconnect the lamp from one power source and connect it to another if desired. The PML-40W-PAR46 is an ideal choice for military and law enforcement use as it provides the power, ruggedness, and versatility needed for specialized operations in hostile environments.

"This Mil-spec 40 watt Vehicle Mount LED PAR46 Light outperforms halogen 12 and 24 watt PAR46 lights, however it consumes far less power." said Rob Bresnahan with Larson Electronics Magnalight.com. " The PML-40W-PAR46 LED light lasts 50,000 hours and can withstand significant vibration, as compared to halogen PAR46 lights which have a life hour span less than 100 hours. Available in white light and/or infrared output, this solid state PAR46 LED alternative is ideal for vehicles and aircraft that typically use PAR46 lights in high vibration applications."

Magnalight by Larson Electronics carries a wide array of LED lights, infrared light bars; infrared and visible light LED spotlights and offers a comprehensive selection of the latest and best in industrial and commercial lighting technology. View Larson Electronics' full line of LEDs and infrared LED lights by visiting Magnalight.com. Contact Magnalight by calling 1-800-369-6671 or 1-214-616-6180 for international inquiries.

More from Waste Management & Waste Handling Equipment