Vehicle Lift Foam Guards protect car, truck, and van doors.
Press Release Summary: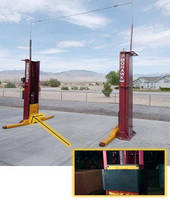 Foam Door Guards, suitable for indoor/outdoor use, enhance safety of all 7,000-30,000 lb capacity Mohawk 2-post lifts. Products protect vehicles such as cars, trucks, and vans, from getting dents and scratches if door is accidentally opened into lift columns. Guards are made from 2 in. thick soft foam, which cannot scratch or damage doors, and are easily applied with double sided tape.
---
Original Press Release:
Vehicle Lift Foam Guards Available From Mohawk Lifts Protect Car, Truck, and Van Doors
Mohawk Lifts is pleased to announce the availability of Foam Door Guards that will provide enhanced safety when used with its line of two-post lifts. The foam door guards are available for all Mohawk two posts lifts ranging from 7,000 to 30,000 lb capacities. Mohawk's foam door guards protect vehicles from dents and scratches if the door is accidentally opened into the lift columns. Unlike other door guards, Mohawk's door guards are made from 2" thick soft foam that can't scratch or damage doors. They are applied easily with double sided tape and are suitable for indoor and outdoor use. The durable construction ensures maintenance-free operation. Mohawk's hydraulically equalized two post lifts (U.S. Patent # 4500071) allow the overhead hydraulic lines to be set at any height or routed in-floor, allowing full lifting of all tall trucks and vans. All Mohawk two post lifts incorporate all position mechanical safety locks in both columns, infinite position hydraulic safeties, truck adaptors as standard equipment, a full 5-year warranty, and lifetime cylinder warranty. About Mohawk Lifts Mohawk, the undisputed leader in lift technology, offers environmentally safe above ground lifts ranging from 6,000 to 240,000 pound capacities. Since 1981 Mohawk has manufactured the highest quality, safest auto and truck lifts available. Mohawk is the #1 lift supplier for all government, state, utility, and fleet lifting requirements. Mohawk Lifts are proudly designed, welded, and manufactured in the USA and Mohawk is one of the few lift manufacturers whose products have passed rigid third party compliance testing to ANSI/ALI ALCTV-2006 For additional information visit www.mohawklifts.com or call 1-800-833-2006, or fax us at 518-842-1289. Write us at PO Box 110, Amsterdam, New York 12010.
More from Machinery & Machining Tools