Vehicle Controller fits tight spaces, survives harsh conditions.
Press Release Summary: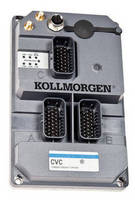 Classified to IP65, 125 x 50 x 195 mm CVC600 is suited for automating standard lift trucks with limited space for add-ons. Design supports 24/7 operation and is immune to vibrations, unstable power supplies, temperature variations, humidity, and dust. Based on technology capable of handling any vehicle type, wheel configuration, and navigation technology, controller also supports WLAN, LAN, CAN, RS232/422/485 communication and 24-48 V operations while consuming 5 W max.
---
Original Press Release:

Kollmorgen's New CVC600 Vehicle Controller Delivers Big Performance in Tight Spaces and Tough Conditions



Compact size and robust operation enable lift truck manufacturers to gain space on automated lift trucks and AGVs, without compromising performance

RADFORD, VA - Kollmorgen introduces the CVC600 Vehicle Controller. Just 125 x 50 x 195 mm in size, CVC600 vehicle controllers can fit where other vehicle controllers can't. The compact controller also boasts a rugged IP65-classified design that is highly immune to vibrations, unstable power supplies, temperature variations, humidity and dust to deliver high-performance, 24/7 operation. As a result it is an ideal solution for automating standard lift trucks with limited space for add-ons that demand compact, robust and reliable vehicle control solutions.

"Those tasked with automating standard forklifts or improving vehicle control on AGVs often run into a big problem - they don't have enough space to mount a controller that will deliver the robust performance demanded of the vehicle," says Markus Johansson, Product Manager, Kollmorgen. "The CVC600 solves that problem by combining high-performance operation with a compact design, which enables lift truck vendors to gain space on the lift truck or AGV without compromising performance."

The CVC600 vehicle controller is based on industry-standard technology that can handle any vehicle type, wheel configuration and navigation technology, including laser, spot, range, EyeWay(TM), magnetic tape or inductive wire. The CVC600 also offers support for WLAN, LAN, CAN, RS232/422/485 communication. This combination of features makes the CVC600 an extremely flexible solution to customize, implement and use.

The CVC600 supports 24 to 48 V operations, with built-in under voltage, over voltage and reverse polarity protection. It is also highly energy efficient, consuming a maximum of 5 W of power and is rated for use in temperatures ranging from -20 to +55°C.

The CVC600 is part of a complete, open-architecture AGV controls platform from Kollmorgen that includes all the software, hardware and services needed for successful vehicle automation. The platform is application-independent, scalable and easy to integrate with host systems and material handling systems. The result is lower total costs for warehouse operations and their customers.

ABOUT KOLLMORGEN
Kollmorgen is a leading provider of motion systems and components for machine builders around the globe, with over 60 years of motion control design and application expertise.

Through world-class knowledge in motion, industry-leading quality and marketshare, and 35 years of proven performance in driverless control technology, Kollmorgen continues to deliver breakthrough driverless control solutions unmatched in performance, reliability and ease-of-use, giving warehouse operations an irrefutable marketplace advantage. Kollmorgen technology and expertise was integral to the world's first automobile production plant with driverless vehicles (1972), laser-guided vehicle (1990), Pick-n-Go system (2007) and 170 metric ton driverless vehicle with 16 controlled wheels (2009).

For more information visit www.kollmorgen.com/agv and www.pick-n-go.com, email driverless@kollmorgen.com or call 1-540-467-3086.

More from Sensors, Monitors & Transducers