Vehicle Battery is suited for motive power applications.
Press Release Summary: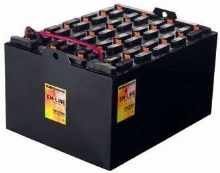 EM-LINE(TM) battery employs reduced-maintenance design engineered to maximize time between watering intervals. Able to deliver power for 3 months or longer without watering, unit helps reduce labor as well as possibility of watering errors. Battery works with Ferroresonant or SCR chargers and meets same footprint and application requirements as 85 and 125 AH batteries. Product is offered in 12-48 V range in 80 and 120 AH sizes.
---
Original Press Release:

C&D Technologies Introduces the EM-LINE(TM) Easy Maintenance Battery for Motive Power Applications


Blue Bell, PA - May 12, 2005 - C&D Technologies, Inc. (NYSE: CHP), Motive Power Division (MPD), a leading North American producer and marketer of batteries, chargers and monitoring systems for electric industrial vehicles, today announced the introduction of the EM-LINE(TM) battery; a reduced maintenance design, engineered to increase time between watering intervals, even in rigorous industrial lift truck applications. The EM-LINE means simply: Easy Maintenance.

With its increased water storage capacity, the EM-LINE battery can deliver power for three months or longer without watering. Compared to a conventional flooded battery requiring weekly or bi-weekly watering, the EM-line reduces the watering interval from 52 times per year to 4 times, reducing watering and associated maintenance costs.

The EM-LINE battery is designed using proven technology. The principal benefits include:
o Reduce water intervals from weekly/bi-weekly to over 12 weeks
o Reduce maintenance costs >70%
o Reduce labor and decrease the possibility of watering errors
o Utilizes alloys, oxides and other components in common with time-tested C&D flooded batteries
o No special charger required - Ferroresonant or SCR chargers acceptable
o Meets the same footprint and application requirements as conventional 85 and 125 AH batteries
o 5 year warranty

The EM-LINE battery ranges from 12 through 48 Volt in 80 and 120 AH sizes - ideal for replacement of original battery equipment as well as new applications.

For more information on the EM-LINE batteries, please contact your local C&D Manufacturer's Representative or contact C&D Technologies via phone at 800-543-8630 or email at: custsvc@cdtechno.com. Visit the C&D website at www.cdtechno.com and click on Motive Power to see the full line of Motive Power products, including the EM-LINE.

C&D Technologies, Inc. provides solutions and services for the motive (material handling), switchgear and control (utility), telecommunications and uninterruptible power supply (UPS) markets as well as emerging markets, such as solar power. C&D Technologies engineers, manufactures, sells and services batteries and associated electronics for electric industrial vehicles such as fork lift trucks and automated guided vehicles. C&D Technologies is headquartered in Blue Bell, PA. For more information about C&D Technologies, visit www.cdtechno.com.

Contact:
Greg Reich
C&D Technologies
1400 Union Meeting Road
Blue Bell, PA 19422
215-619-7825
800-543-8630 ext 825
greich@cdtechno.com

Contacts:

General Information:
Stasie Fretz
USA
Phone: 800-543-8630 ext 876
sfretz@cdtechno.com

Company Information:
Name: C&D Technologies
Address: 1400 Union Meeting Rd., P.O. Box 3053
City: Blue Bell
State: PA
ZIP: 19422-0858
Country: USA
Phone: 800-543-8630
FAX: 215-619-7840

http://cdtechno.comom

More from Electronic Components & Devices