Vee and In-Line Engines offer lengthened service intervals.
Press Release Summary: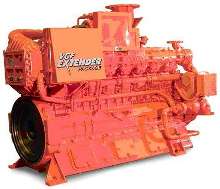 VGF(TM) engines, with Extender package, employ wider oil pan that lengthens period between oil changes to 2,100 hr and has access panels to allow servicing of major engine components. Pan also reduces vibration and serves as base for 6- and 8-cylinder engines. Also included: valve train lubrication, polished chrome stem valves, and closed breather system element with integral vacuum regulator, which maintains negative crankcase pressure to prevent oil leaks.
---
Original Press Release:

Waukesha® Adds New 'Extender' Features to VGF(TM) Engine Line


WAUKESHA, WISCONSIN - (March 24, 2003) - Waukesha Engine has announced the introduction of the new Extender package to its popular VGF(TM) engine line. The Extender package, which will be standard on all VGF engines manufactured from April 15, 2003, offers internal enhancements that increase the engine's already high durability and longevity expectations, as well as external improvements that lengthen service intervals plus make maintenance easier.

According to Tim Baker, VGF Product Manager, "The Extender package now offers VGF users the performance features of a high-speed product with durability of a medium-speed engine. Field testing has proven that Waukesha's Extender VGF engines give the user features and benefits far beyond what competitive engine manufacturers have available."

The most visible feature of the new Extender package is the new oil pan that has twice the capacity of the previous pan. Besides lengthening the period between oil changes, the pan has access panels to allow servicing of major engine components (oil pump, main and rod bearings) without having to be removed. The wider, heavier pan also reduces vibration and serves as a base for the 6 and 8 cylinder engines. For customer convenience we kept the same centerline, footprint and connections as found on previous-style VGF engines. Retrofit kits will be available for earlier engines.

"Oil change intervals have been increased to 2100 hours from the previous 1000 hours, which translates into lower routine service costs and higher engine uptime for increased production time," Baker adds. "The easy access features allow the engine to remain on site during a scheduled overhaul, which also reduces downtime and lost availability."

Doubling the oil capacity is just one of the improvements now standard with the Extender package of Vee and in-line VGF engines. Reliability advancements were also made to engine's top end that include:

o improved valve train lubrication to significantly reduce wear;
o polished chrome stem valves reduce guide wear and promote longer life;
o closed breather system element with integral vacuum regulator maintains negative crankcase pressure to prevent oil leaks.

"We've tracked a number of test Extender package engines to verify their top end durability and have found that 93% of the cylinders heads reached 16,000 hours before needing to be overhauled," Baker says. "We feel that this is a remarkable increase in reliability and durability, which allows us to offer the user extended maintenance intervals unmatched by any other engine manufacturer."

Founded in Waukesha, WI, in 1906, Waukesha Engine is a manufacturer of spark-ignited, gaseous-fueled engines widely used in field gas compression, power generation, and other mechanical drive applications. Waukesha Engine also packages Enginator® gen-sets and DC switchgear controls for the distributed generation market.

Waukesha Engine's manufacturing and power systems facilities - located in Waukesha, Wisconsin, USA and Appingedam, The Netherlands - are ISO 9001 certified. The company's website can be accessed at waukeshaengine.dresser.com.

Waukesha Engine is a business unit of Dresser, Inc., headquartered in Dallas, Texas, a worldwide leader in the design, manufacture and marketing of highly engineered equipment and services sold primarily to customers in the flow control, measurement and power systems segments of the energy industry. Dresser has a widely distributed global sales presence in 100 countries worldwide with over 8,700 employees. The company's web site can be accessed at dresser.com.

NOTE: For additional information, please contact John Hoeft, Director - Marketing, Waukesha Engine, 1000 W. St. Paul Ave., Waukesha, WI 53188-4999, (262) 896-4929. Visit Waukesha Engine on the Internet at waukeshaengine.dresser.com.

For a digital image of the photo below, please contact Dan Vnuk - Marketing Communications Coordinator at (262) 650-5802 or dan.vnuk@waukeshaengine.dresser.com.

More from Packaging Products & Equipment