AC Motor Controllers and Drives
Vector Drive Line includes two adjustable speed AC units.
Press Release Summary: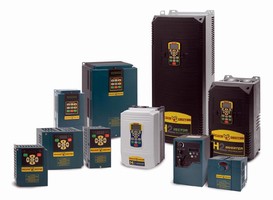 V*S Drive line consists of Models VS1SP sensorless vector drive and VS1GV closed loop vector drive that include 115 Vac models with up to 3 hp, 230 Vac models with up to 60 hp, and 460 and 575 V models with up to 125 hp. Ranging from ½ to 10 hp, V*S1 microdrives assure consistent motor control through range of voltages, horsepowers, and enclosure types. Suited for pump and fan industry, model VS1PF drive is available from 5-700 hp.
---
Original Press Release:

Baldor Announces New Drives Family



Baldor Electric Company, Fort Smith, Arkansas based manufacturer of energy saving industrial electric motors, power transmission products, drives and generators, announces a new line of adjustable speed drives designed to meet virtually all applications needs. The new Baldor V*S Drive line includes two models of high-performance adjustable speed AC drives with powerful processors and advanced design features, three microdrive models offering a cost effective solution for basic adjustable speed applications, and a pump/fan drive designed to provide the control needed for maximizing energy savings without sacrificing functionality.

Built on the popular H2 technology platform, the Baldor VS1SP sensorless vector drive and VS1GV closed loop vector drive are high-performance variable speed AC drives designed to tackle difficult and demanding applications regardless of what voltage, power rating, or performance level the application demands. They are the simplest to program and the easiest to operate of comparable drives on the market. Plus, their removable keypads provide quick help text information in the language of your choice. The 115 VAC models are available up to 3 HP, 230 VAC models up to 60 HP, and 460V and 575V are available up to 125 HP.

Baldor V*S1 microdrives are compact workhorses that feature user-friendly interfaces and design elements that assure consistent motor control throughout a wide range of voltages, horsepowers, and enclosure types. Three cost-effective microdrive models are available: the VS1MD microdrive/inverter, the VS1MX for harsh environments, and the VS1SM single phase drive. Ranging from ½ to 10 HP, these three performance-proven microdrives are well- suited for a wide range of applications.

The new Baldor VS1PF drive, available from 5 to 700 HP, is a feature rich drive ideally suited for the pump and fan industry. With its energy saving features, the VS1PF drive provides significant savings over mechanical variable speed solutions as well as higher performance drives. Its automatic energy savings mode adjusts output automatically based on load for optimum savings. The VS1PF drive uses a traditional inverter V/Hz control method with linear, fan/pump, or custom curves, as well as sensorless vector control for the tougher constant torque pump and fan applications. Its easy setup, quick startup, and right-out-of-the-box operation make it user friendly and ideal for application where multiple motors are operated simultaneously from one motor control.

With this new line of drives, Baldor now offers a drive to meet every possible need, from the simplest application, to the most complex closed loop vector control with Ethernet networking. Built to the highest standards of quality and reliability, every Baldor V*S drive is guaranteed to meet or exceed application requirements.

Baldor Electric Company markets, designs, and manufactures industrial electric motors, power transmission products, drives, and generators and is headquarted in Fort Smith, Arkansas. For more information about Baldor and our other products visit our web site at www.baldor.com or call 479-646-4711.

For More Information
Contact Charles G. Hubbard
Director, Corporate Communications

More from Electrical Equipment & Systems