Vector, Aviation Industry, India: Seco/Warwick's Common Denominator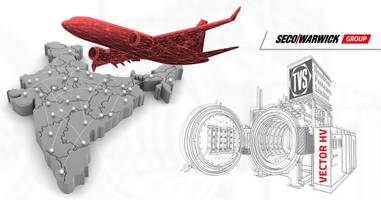 Sundram Fasteners Limited is the Indian fastener manufacturer where SECO/WARWICK will provide a VECTOR® vacuum furnace to be a part of the highest quality aviation screw production process.
This is the second time both companies have cooperated. The partner already operates a SECO/WARWICK furnace, working reliably in the company's branch producing automotive industry components. Proven partner and technology meet for the second time.
Fasteners of extraordinary quality
The vacuum furnace on order is a compact Vector device that meets the Indian partner's requirements in the field of fastener heat treatment for use in the aviation industry. Thanks to its proven design, the furnace will enable efficient heat treatment of large loads of manufactured aviation bolts.
"This is a proven design with a complex pumping system. A round heating chamber with very good temperature distribution as well as an efficient and ergonomic pumping system additionally extended with a diffusion pump, will allow the system to achieve a high working vacuum of 10-4. Thanks to an efficient cooling system based on a gas blower, the furnace provides a maximum hardening pressure of up to 15 bar abs. This is our flagship design, which has proven itself in the aviation and automotive industries for many years, so selecting this technology is not surprising as it ensures high quality production of finished components, which is critical in this high trust industry," said Maciej Korecki, Vice President of VACUUM FURNACE SEGMENT in SECO/WARWICK Group
Vector - many sizes, hundreds of applications
The Vector vacuum furnace is available in several sizes and numerous configurations. This product is most often chosen by manufacturers from the aviation industry. Sundram Fasteners Limited chose the Vector vacuum furnace for its reliable and proven design, along with numerous international recommendations. Similar devices operate in over 70 countries around the world.
A characteristic feature of the ordered equipment is a system based on a highly efficient diffusion pump. The device carries out high-vacuum processes and enables partial pressure control.
"This is not the first project that we have implemented with this partner. Previously, we supplied a device that serves the automotive segment to the Indian branch. The current order confirms that another demanding customer from the aviation industry is satisfied with the cooperation with SECO/WARWICK. We want our furnaces and in particular the flagship product - Vector, to be the first-choice device for manufacturers in the aviation industry. We have been able to implement this assumption consistently for many years," sums up Manoranjan Parta, SECO/WARWICK India Managing Director.
A serious player in the aviation industry together with SECO/WARWICK
Sundram Fasteners Limited is part of the TVS Group. Established in 1911, it grew rapidly, expanding its portfolio and becoming the largest manufacturer of automotive components in India. The group currently operates in multiple industries with total sales of more than $8.5 billion.
"The new vacuum furnace will help us heat treat larger loads of aviation screws. Its working space significantly increases the processing capacity of our hardening plant. We have known SECO/WARWICK for many years, and we know this is a partner you can trust," commented by Mr. Atul Kumar Agrawal Vice President Sundram Fasteners Limited and
"Vector will improve and increase the processing capacity of the tempering, hardening and annealing processes, and will improve the process economics, considering energy savings and the graphite chamber efficiency. Its compactness, economy and intuitive operation are the great advantages of this product," added Mr. Sivaraman Arjunan Senior Manager.
Sundram Fasteners Limited is a world leader in manufacturing precision components for the automotive, energy (windmills) and aviation sectors. Sundram Fasteners Limited diverse product portfolio includes fasteners, drive system components, sintered metal products, iron powders, cold-stamped parts, radiator plugs, water pumps, oil pumps and wind energy components. Sundram Fasteners Limited supplies its components to India, China, Germany, USA, UK, Italy, France, and Brazil.
The order is scheduled to be commissioned in the 3rd quarter of this year.
Contact:
Katarzyna Sawka
Seco/Warwick Group
Marketing VP
[email protected]
+48 512 811 648