VDSL Transformers support vectoring to eliminate noise.
Press Release Summary: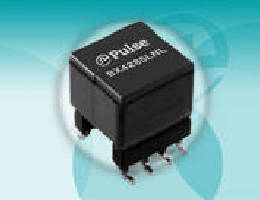 Compatible with Broadcom's BCM65x00 chipset family that integrates vectoring technology, 30 MHz Models BX4285LNL and BX4285LNLT can be used in both VDSL2 vectoring and non-vectoring configurations as Class H line drivers to deliver high bandwidth over existing copper transmission lines. When used with Broadcom chipset, transformers produce high-speed data rates needed for HD video, gaming, multimedia services, cloud computing, video conferencing, and electronic services.
---
Original Press Release:

Pulse Electronics' 30 MHz VDSL2 Transformers are Compliant with Broadcom's BCM65x00 Chipset Family for VDSL2 Vectoring



Vectoring eliminates noise to enable peak speed VDSL2 operation



San Diego, Calif. -- Pulse Electronics Corporation (NYSE: PULS), a leading provider of electronic components, introduces the BX4285LNL and BX4285LNLT VDSL vectoring transformers. These transformers can be used in both VDSL2 vectoring and non-vectoring configurations as Class H line drivers to deliver high bandwidth over existing copper transmission lines. The Pulse Electronics transformers can be used with Broadcom's BCM65x00 chipset family that integrates vectoring technology. Pulse Electronics' transformers provide excellent longitudinal balance and total harmonic distortion on an extremely compact platform.



VDSL2 has the potential to reach 100 Mbps, but noise among the lines in a cable impedes performance. VDSL2 vectoring cuts out all of the noise, or interference, among the VDSL2 lines in a bundle, so every line within a bundle can operate at peak performance, as if no other VDSL2 lines are present. This results in superior performance and enables copper to reach its full potential.



"Where the copper infrastructure is already in place, it makes sense to adopt VDSL2 vectoring because it makes it possible to achieve download rates of up to 100 Mbps and possibly beyond," explained Ronan Kelly, Pulse Electronics broadband product manager. "Pulse transformers, in conjunction with the Broadcom chipset, produce the high-speed data rates that are needed for applications such as HD video, gaming, multimedia services, cloud computing, video conferencing, electronic services like healthcare and education, and other consumer, business, and government services that require high bandwidth."



Pulse Electronics' BX4285LNL transformer is packaged in trays while the BX4285LNLT is packaged in tape and reel. They are available now with a lead-time of 8 weeks. More information can be found on datasheet T696 located on the Pulse website at http://productfinder.pulseeng.com/products/datasheets/T696.pdf or visit the Pulse website at http://www.pulseelectronics.com.



About Pulse Electronics: 

Pulse Electronics is the electronic components partner that helps customers build the next great product by providing the needed technical solutions. Pulse Electronics has a long operating history of innovation in magnetics, antennas, and connectors, as well as the ability to ramp quickly into high-quality, high-volume production. The Company serves the wireless and wireline communications, power management, military/aerospace, and automotive industries. Pulse Electronics is a participating member of the IEEE, SFF, OIF, HDBaseT Alliance, CommNexus, NFC Forum, MoCA, and IWPC. Visit the Pulse Electronics website at www.pulseelectronics.com.



Copyright ©2013 Pulse Electronics Corporation. All rights reserved. All brand names and trademarks are properties of their respective holders.



Pulse Electronics

Ronan Kelly

Product Marketing Manager

Tel: +353 93 70334

Email: rkelly@pulseelectronics.com

More from Material Handling & Storage