VCSEL/Laser Driver and Postamplifier suits Ethernet applications.
Press Release Summary: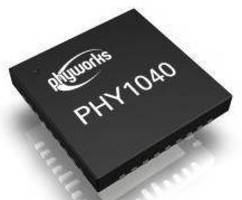 Designed for fiber optic modules for SFP and SFF applications, PHY1040-01 operates with 3.3 V supply and comes in 5 x 5 mm QFN package. Common anode VCSEL driver output stage has 32 mA max modulation drive and 20 mA bias current, while continuous mode LASER driver offers up to 80 mA modulation and 90 mA bias current. Bias current can be controlled by APC loop or in open loop mode, and limiting amplifier features programmable low pass filter and output swing.
---
Original Press Release:

PHY1040; VCSEL/Laser Driver and Postamplifier



The PHY1040-01 is a continuous mode VCSEL/Laser driver and limiting amplifier for use within fiber optic modules for SFP and SFF applications. Used with the PHY1092-01 or PHY1095-01 transimpedance amplifiers and a low cost serial EEPROM or microcontroller it forms a complete SFP module solution. The transmit section integrates a modulator output stage optimised as a LASER or VCSEL driver in common anode configurations. The bias current can be controlled either by a fast settling APC loop or in open loop mode which uses a temperature lookup table. The receiver includes a limiting amplifier with programmable bandwidth. A Signal Detect/Loss Of Signal function is implemented using the input signal modulation amplitude with user selectable threshold and hysteresis. Operating with a 3.3V supply and rated from -40 to +95°C ambient, the PHY1040-01 is housed in a 32pin, 5x5mm, RoHS compliant, QFN package.

Key features

Common anode VCSEL driver output stage with 32mA max modulation drive and 20mA bias current.

Continuous mode LASER driver with up to 80mA modulation and 90mA bias current

Closed or open loop bias mode with temperature lookup table

Temperature compensated modulation current

Limiting amplifier with programmable low pass filter and output swing

Device settings stored in external 2k EEPROM

Applications

Fast Ethernet

Gigabit Ethernet

OC-3

Related