VCAs minimize usage of adhesives and inks.
Press Release Summary: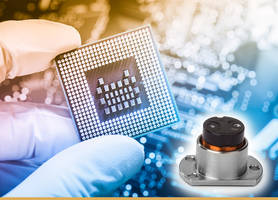 Available in LA05-05 and LA15-16 models, VCAs incorporate Neodymium Iron Boron magnets. VCAs measure 12‒38 mm in diameter and 12‒40 mm in length and are ½ and 2 in. in size. Units are suitable for semiconductor, military, aerospace, microelectronics, test and measurement applications.
---
Original Press Release:
New VCAs Meet High-Purity and Near Zero Out-Gassing Demands for Semiconductor, Military and Space Markets
BEI Kimco, a brand of Sensata Technologies, has developed new VCAs to meet the high-purity and low out-gassing requirements for semiconductor, military and space applications. Though vastly different in use, equipment used in these three markets all demand extremely low out-gassing to prevent not only film formation on lens and glass surfaces, but also interference with equipment operation. Ultra-pure requirements are especially important in the semiconductor manufacturing process. Additionally, these devices also require high precision actuators for exact motion control positioning.
BEI Kimco's new actuators incorporate special materials to meet these increasingly stringent low out-gassing requirements. Key to the VCAs' specifications that would meet these performance needs while measuring only ½" to 2"in size, BEI Kimco developed Models LA05-05 and LA15-16 actuators that minimize the use of adhesives and inks and incorporate only approved materials. The new design uses primarily mechanical assembly methods within a clean manufacturing process, thereby eliminating substances that could cause outgassing and contamination. High energy Neodymium Iron Boron (NeFeB) magnets were incorporated to provide superior operating efficiencies. The resulting high performance VCAs measure 12‒38 mm in diameter and 12‒40 mm in length (at mid-stroke).
"These two new actuators are the most recent example of BEI Kimco's commitment to developing new products that meet customer's application specific requirements," says Jim McNamara, BEI Kimco Applications Engineer. "For environments that require zero contamination and low out-gassing, the type of material used to build the VCA was extremely important. In this case, we started with a list of NASA approved materials as the basis for product development and performed testing throughout the process in our own facilities as well as the customer's."
BEI Kimco's low out-gassing VCAs are suitable for a wide variety of demanding OEM environmental conditions such as semiconductor, military, aerospace, microelectronics, test and measurement, and industrial manufacturing applications.
For more information, contact BEI Kimco, Tel: (760) 597-7042; Toll-free: (800) 572-7560; Fax: (760) 597-6320; email: sales@beikimco.com; www.beikimco.com.
About BEI Kimco
BEI Kimco specializes in the design and manufacture of high performance rotary and linear motion components, including Brushless DC Motors and Voice Coil Actuators. These products are designed for applications where performance, precision, and reliability are critical. Using proprietary magnetic design methodologies, BEI Kimco has the ability to produce custom, cost efficient products within multiple manufacturing locations.BEI Kimco is a leader in medical, industrial, aerospace & defense markets.
BEI Kimco is a brand of Sensata Technologies. www.beikimco.com
About Sensata Technologies
Sensata Technologies is one of the world's leading suppliers of sensing, electrical protection, control and power management solutions with operations and business centers in thirteen countries. Sensata's products improve safety, efficiency and comfort for millions of people every day in automotive, appliance, aircraft, industrial, military, heavy vehicle, heating, air-conditioning and ventilation, data, telecommunications, recreational vehicle and marine applications. For more information please visit Sensata's website at www.sensata.com.
Company Contact:
BEI Kimco
Jorden Harvey
Tel: (760) 597-6313
Email: jorden.harvey@sensata.com
More from Sensors, Monitors & Transducers