Plasma / Flame / Laser Cutters and Cutting Machinery
VBA System cuts material between 1/4 and 1 1/4 in. thick.
Press Release Summary: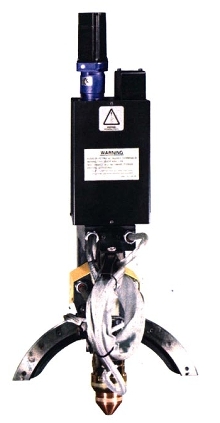 Expert Motion Plasma Variable Bevel Angle System is fully programmable and used to accurately cut plate material in parts that have beveled and straight cuts. Servo motors control single plasma torch in 3 axes: tilt, rotation, and vertical height. Head is always perpendicular to direction of travel because of automatic rotation control. Along with on-the-fly beveling, system features automatic switching between arc voltage and tactile sensor torch height control.
---
Original Press Release:

ESAB Cutting Systems Offers Plasma VBA System


Florence, SC - ESAB Cutting Systems announces their Expert Motion Plasma Variable Bevel Angle (VBA) System. The most economically priced plasma bevel system in the industry, the ESAB VBA system is fully programmable and is used to accurately cut plate material in parts that have beveled and straight cuts.

Integrated with ESAB's plasma flow control and CNC control system, the Plasma VBA System offers superior control of bevel cutting and makes part programming extremely easy. Servo motors control a single plasma torch in three axes: tilt, rotation and vertical height. The system allows for cutting of materials between ¼" and 1-¼" thick and the bevel head can be programmed to change bevel angle on the fly. The head is always perpendicular to the direction of travel because of automatic rotation control.

Compact in size and lightweight, the Plasma VBA System is available on smaller, less expensive machines, or as a retrofit. High-speed tilt and rotation allow for minimized transitions and improved contouring. The VBA's precision tactile sensor is the only system capable of accurately maintaining torch height relative to the plate surface.

The ESAB PT-600 torch provides the highest accuracy cutting and increases life of the consumable. The ESAB Expert Motion Plasma VBA System is equipped with breakaway torch protection, ensuring safety for the machine as well as the user.

Along with "on-the-fly" beveling, the system also features automatic switching between arc voltage and tactile sensor torch height control. For more information on the ESAB Expert Motion Plasma VBA System, contact ESAB Cutting Systems at 843-664-4394, or visit their website at www.esab.com.

ESAB Cutting Systems, based in Florence, South Carolina, produces mechanized plasma, oxyfuel, laser and waterjet cutting equipment for virtually every requirement, from custom fabrication shops to large production operations.

ADDRESS
411 S. Ebenezer Rd.
P.O. Box 100545
Florence, SC 29501-0545

PHONE
(843) 664-4394

FAX
(843) 664-4403

http://www.esab.com

More from Mechanical Power Transmission