VAUNIX LDA-602 Digital Attenuator Voted Top Ten Test and Measurement Product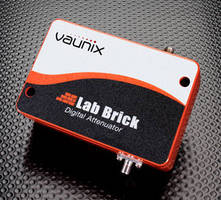 VAUNIX USB Controlled Lab Brick LDA-602 Digital Step Attenuator up to 6 GHz Voted Top Ten Test and Measurement Product by EverythingRF.com



The LDA-602 Lab Brick® Digital Attenuator with sma female connectors is a 50 Ohm RF step attenuator with calibrated operation up to 6 GHz. This unit connects to a USB port for control and power and requires no additional DC supply voltage. It is easily programmable for fixed attenuation or swept attenuation ramps directly from the included GUI. Lab Brick Digital Attenuator API DLL and LabVIEW-compatible drivers are also available for custom programming applications.



The LDA-602 Lab Brick Digital Attenuator is ideal for engineering and production test laboratories as well as integration into high speed automatic-test-equipment (ATE) systems. It can also be used in development of low-cost fading simulators for Multiple Input Multiple Output (MIMO) and Single Input Multiple Output (SIMO) communication systems such as WiMAX, 3G and LTE. It is based on GaAs monolithic-microwave-integrated-circuit (MMIC) attenuator technology for excellent repeatability of attenuation values.



Established in 2004, NorthTree Associates (Waconia, MN) is a North American distributor that specializes in providing design engineers, test engineers, and production engineers the best protocol, bus analysis, and board-level testing and debugging tools available.



More from Architectural & Civil Engineering Products