Varistor is thermally protected.
Press Release Summary: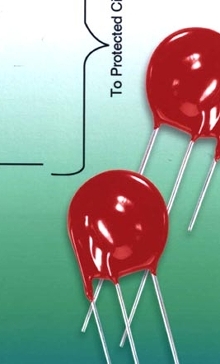 Available in 20 mm packages, iTMOV(TM) metal-oxide varistor (MOV) offers voltages from 115 to 420 Vac. Integrated thermally activated element opens when MOV experiences elevated temperatures from abnormal, sustained over-voltage limited current conditions to reduce potential threats of thermal runaway condition. It also guards against transient voltage surges. Designed for TVSS modules, series can be used in devices requiring power conditioning and protection.
---
Original Press Release:

New Indicating Thermally Protected Metal Oxide Varistor (iTMOV(TM) Varistor) Helps Guard Against Both Sustained Over-Voltage Conditions and Transient Voltage Surges


DES PLAINES, Illinois, May 12, 2002 - Littelfuse, Inc. (NASDAQ/NMS:LFUS) today announced the introduction of the new iTMOV(TM) thermally protected metal oxide varistor (MOV) product series. These products represent an expansion of the revolutionary, patent pending TMOV(TM) product family, which integrates a thermal protection device into a standard radial MOV package.

"Both the iTMOV(TM) and TMOV(TM) varistors offer the same functionality as a high performance MOV (such as a Littelfuse UltraMOV(TM) Varistor) but have the added safety of an integrated thermally activated element. This element is designed to open when the MOV experiences the elevated temperatures normally associated with the abnormal sustained over-voltage limited current conditions outlined in UL1449, thus reducing the potential threat of a thermal runaway condition," explained Donal McKeagney, Product Marketing Engineer, Ceramic Products. In addition to the integrated thermal element, the iTMOV(TM) varistor includes the addition of a dedicated lead for purposes of indicating when the thermal element has opened. Thus, the iTMOV name represents "indicating" TMOV(TM).

The iTMOV(TM) and TMOV(TM) varistors are intended, with appropriate enclosure design, to help facilitate TVSS module compliance to UL1449, section 37.4 (sustained abnormal over-voltage, limited current requirements). The iTMOV and TMOV, patents pending, varistors are recognized as surge suppression components by UL1449 and have been tested to selected parts of UL1020 (standard for Thermal Cut Out devices). Designed for TVSS modules, these innovative products can also be used in a variety of devices requiring power conditioning and protection, such as Uninterruptible Power Supplies, Power Supplies, Lighting Products and Communication Products.

"Integrating either the Littelfuse iTMOV(TM) or TMOV(TM) varistors into these designs provides an added degree of thermal protection in an application which currently uses a standard MOV," according to McKeagney. In addition, when compared to a discrete thermal protection solution, the iTMOV/TMOV varistor provides better thermal response performance because the integrated thermal element is in direct contact with the MOV body. Likewise, the iTMOV/TMOV solution offers better clamping performance due to the reduced lead inductance versus a discrete design. In addition to reducing part count and increasing reliability, the iTMOV/TMOV products can be auto-inserted and wave soldered, eliminating manual component placement, and resulting in increased manufacturing throughput. These innovative products are currently available in standard 20mm packages with operating voltages ranging from 115Vac to 420Vac. Additional electrical parameters and performance characteristics are available via the datasheet at www.Littelfuse.com.

Customers can obtain more information or receive samples of the iTMOV(TM) and TMOV(TM) varistors by contacting a Littelfuse Application Engineer via phone at (800) 999-9445, or fax (847) 391-0459.

Littelfuse is a global company offering the broadest line of circuit protection products in the industry. In addition to its Des Plaines, Illinois, world headquarters, Littelfuse has manufacturing facilities in England, Ireland, Switzerland, Mexico, Korea, China and the Philippines, as well as in Centralia, Des Plaines and Arcola, Illinois. It also has sales, engineering or distribution facilities in the Netherlands, Singapore, Hong Kong, Taiwan, Japan, Brazil, and Melbourne, Florida.

For more information, please visit Littelfuse's web site at www.littelfuse.com.

"Safe Harbor" Statement under the Private Securities Litigation Reform Act of 1995. Any forward looking statements contained herein involve risks and uncertainties, including, but not limited to, product demand and market acceptance risks, the effect of economic conditions, the impact of competitive products and pricing, product development and patent protection, commercialization and technological difficulties, capacity and supply constraints or difficulties, exchange rate fluctuations, actual purchases under agreements, the effect of the company's accounting policies, and other risks which may be detailed in the company's Securities and Exchange Commission filings.

More from Machinery & Machining Tools