Variable Speed Pump Drive provides high dynamics.
Press Release Summary: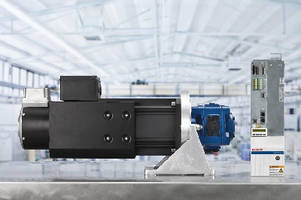 Covering wide performance range up to 120 kW, Sytronix SVP 7010 offers comprehensive selection of hydraulic-specific functions and can be used in both open and closed loop hydraulic circuits. Control can eliminate pressure overshoot and position linear axes to high degree of accuracy, without instability. Algorithms allow for reduction of pressure ripple inherent in certain pump designs. To save energy, drive reduces pump speed during idle and partial load operation.
---
Original Press Release:

Energy Efficient, Maximum Performance



Sytronix SVP 7010 provides high dynamics and control accuracy along with energy efficiency and reduced noise level



The Rexroth Sytronix SVP 7010 is a variable-speed pump drive offering high dynamics and control accuracy with reduced energy consumption and lower noise levels for hydraulic systems.



The new SVP 7010 expands the Sytronix family of ready-to-install variable-speed pump drives offered by Rexroth. With a comprehensive selection of hydraulic-specific functions, it is suited to a broad range of applications. Rexroth has integrated functionality, which in the past required proportional or servo valve technology, into a servo-drive to provide high control accuracy and dynamics. The control utilizes state-of-the-art functionality and can eliminate pressure "overshoot" and position linear axes to a high degree of accuracy, without instability. Additionally, unique algorithms allow for the reduction of pressure ripple inherent in certain pump designs. These pre-programmed features can reduce the engineering effort of machine manufacturers allowing simple startups with a minimum of tuning parameters.



In addition to the performance offered, the energy saving potential of the SVP 7010, with pump speed reduction during idle and partial load operation, can result in energy savings up to 80% as compared to conventional drive technologies. Additional energy savings can be realized when multiple drives with overlapping machine cycles are interconnected, or when drive regeneration is used. Energy storage using capacitor banks or kinetic storage regenerated during deceleration and braking motions can be utilized in other portions of a machine's cycle. An additional benefit is the reduction in average noise emissions when using the SVP 7010. Sound-reducing technologies that may have been required in the past may no longer be required, resulting in simpler designs and lower costs.



Rexroth comprehensive application experience brings additional functions into the control, such as the Productivity Agent, can provide condition-related maintenance information to minimize downtime and lower maintenance costs.



The SVP 7010 covers a wide performance range up to 120 kW and is therefore ideal for a broad range of machine applications. A new series offers a direct coupled motor/pump assembly which reduces the overall length by 20 percent and reduces the inertia of the drive by up to 50 percent, boosting dynamics significantly.



The SVP 7010 can be used in both open and closed loop hydraulic circuits. Pumps for 2 or 4 quadrant operation are offered, with three levels of performance which allows the correct fit for nearly any machine configuration. The Sytronix family comprises more than 100 preconfigured drive/pump combinations to meet the requirements of machine applications and performance. System performance of these Rexroth matched drive components offer a high level of confidence that application requirements can be met.



About Bosch Rexroth:  

Economical, precise, safe, and energy efficient: drive and control technology from Bosch Rexroth moves machines and systems of any size. The company bundles global application experience in the market segments of Mobile Applications, Machinery Applications and Engineering, Factory Automation, and Renewable Energies to develop innovative components as well as tailored system solutions and services. Bosch Rexroth offers its customers hydraulics, electric drives and controls, gear technology, and linear motion and assembly technology all from one source. With locations in over 80 countries, more than 36,700 associates generated sales revenue of approximately 5.7 billion euros ($7.6 billion) in 2013. To learn more, please visit www.boschrexroth-us.com



About Bosch:

The Bosch Group is a leading global supplier of technology and services. In 2013, its roughly 281,000 associates generated sales of 46.1 billion euros ($61.2 billion). Its operations are divided into four business sectors: Automotive Technology, Industrial Technology, Consumer Goods, and Energy and Building Technology. The Bosch Group comprises Robert Bosch GmbH and its more than 360 subsidiaries and regional companies in some 50 countries. If its sales and service partners are included, then Bosch is represented in roughly 150 countries. This worldwide development, manufacturing, and sales network is the foundation for further growth. In 2013, Bosch applied for some 5,000 patents worldwide. The Bosch Group's products and services are designed to fascinate, and to improve the quality of life by providing solutions which are both innovative and beneficial. In this way, the company offers technology worldwide that is "Invented for life." Additional information is available online at www.bosch.com, www.bosch-press.com and http://twitter.com/BoschPresse



In the U.S., Canada and Mexico, the Bosch Group manufactures and markets automotive original equipment and aftermarket products, industrial drives and control technology, power tools, security and communication systems, packaging technology, thermotechnology, household appliances, healthcare telemedicine and software solutions. For more information, please visit www.boschusa.com, www.bosch.com.mx and www.bosch.ca



Contact for Journalists:

Bosch Rexroth Corporation

Susan Strauss

2315 City Line Road

Bethlehem, PA 18017

Telephone (610) 694-8352

Fax (610) 694-8352

susan.strauss@boschrexroth-us.com

Related