Variable-Speed Finishing Systems are custom designed.
Press Release Summary: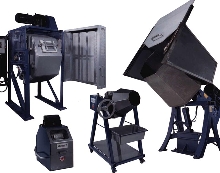 Open-face barrel designs provide variable cascading, and are also used where acids might risk explosion in closed barrel. Closed-barrel designs permit full rotation of barrel, parts, and media for aggressive action in longer, unattended cycles. Both styles are available in freestanding or tabletop configurations. Dual-barrel systems are also available. Lined or unlined barrels are available in stainless steel, carbon steel, and various plastics.
---
Original Press Release:
Abbott Barrel Finishing Systems Custom-Built in Wide Variety

DATE: May 31, 2002

West Hartford, CT - The Abbott Ball Company now offers a full range of custom built variable-speed finishing barrel designs, including open or closed, to conform to customer requirements for process results.

Abbott's open-faced design provides variable cascading, and is also used where acids might risk explosion in a closed barrel. The company's closed barrel design permits full rotation of the barrel, parts and media for more aggressive action in longer, unattended cycles. Either design is available in freestanding or tabletop configurations.

Abbott barrels are available in stainless or carbon steel and various plastics, including PVC and polypropylene, in a range of sizes, lined or unlined, depending upon process requirements. Dual barrel systems permit multiple processes, media and parts to be simultaneously finished. Smaller systems are perfect for jewelry, die castings, decorative parts, and precision components. Larger systems are suited for production runs of larger parts in higher quantity.

Abbott barrel finishing systems may use genuine Abbott steel media for clean, quick, efficient removal of burrs, flash, scale and surface irregularities. Steel media works on cast, stamped and machined parts, in metal or plastic. Consumable media, including plastic and ceramic, may also be used for material removal, while corn cob and wood media are used for drying and buffing.

For further information, contact:

Abbott Ball Company

P.O. Box 330100, Railroad Place

West Hartford, CT 06133-0100

Phone: 860/236-5901 ext. 245

FAX: 860-233-1069

E-MAIL: kelly@abbottball.com
More from Electronic Components & Devices