Variable Speed Drives offer output frequencies of 3,000 Hz.
Press Release Summary: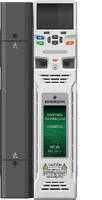 Engineered specifically for high-speed applications, Unidrive HS30 incorporates Dual Safe Torque Off and advanced Rotor Flux Control of open loop induction motors, while Unidrive HS70 offers optimized induction, permanent magnet, and servo motor performance, with on-board real-time Ethernet. HS70 also incorporates Advanced Motion Controller and PLC. Different variations of HS70 are available, including models with on-board Ethernet, RS485, and Dual Safe Torque Off.
---
Original Press Release:

Introducing Unidrive HS30 and HS70 - Drives Designed for High Speeds



Emerson has expanded its Control Techniques variable speed drive range with two new models designed specifically for applications which demand high speeds.The Unidrive HS30 and HS70 variable speed drives, capable of output frequencies of 3,000Hz, are perfectly suited to high speed applications frequently required for automotive & aeronautical engine and transmission line test equipment, machine tool manufacture and centrifuges for the food & beverage and oil industries.



Unidrive HS70 and HS30 are essentially designed with the same specifications as the standard Control Techniques Unidrive M700 and Unidrive M300 variable speed drives, however, unlike the Unidrive M models, HS30 and HS70 have been engineered specifically for high speed applications. 



The new drives are controlled products under new laws in the EU and USA covering the export of ´dual use´ goods, software and technology. This refers to items normally used for civilian purposes but which may have military applications, or may contribute to the proliferation of weapons of mass destruction.



OEMS and machine builders which incorporate high speed drives in their designs are responsible for checking and evaluating whether or not their machines comply with, or contravene, the relevant legislation. In order to assist its customers, Control Techniques has introduced the Unidrive HS range of high frequency variable speed drives.



Unidrive HS70 offers class-leading induction, permanent magnet and servo motor performance, with on-board real time Ethernet. It provides maximum control of high speed motors and incorporates an on-board Advanced Motion Controller and PLC. Different variations of Unidrive HS70 are available, including models with on-board Ethernet, RS485 and Dual Safe Torque Off (Dual STO).



Unidrive HS30 is designed for applications that require cost effective integration into safety systems and incorporates Dual STO and advanced Rotor Flux Control of open loop induction motors.



The existing Unidrive M models, which are restricted to a frequency of 550Hz, are uncontrolled products in the eyes of the new laws in the EU and USA restricting the sale of variable speed drives with an output frequency of higher than 600Hz. This means no export restrictions reply.



In order to comply with the new legislation, businesses which export goods or machines that incorporate goods classed as dual use under the terms of the EU regulation to locations outside the EU must apply for the relevant export licences from their respective governments. The changes also have an effect on the documentation required in any transaction, as well as the measures which are taken to securely store the controlled goods.



About Emerson:

Emerson (NYSE: EMR), based in St. Louis, Missouri (USA), is a global leader in bringing technology and engineering together to provide innovative solutions for customers in industrial, commercial, and consumer markets around the world.  The company is comprised of five business segments: Process Management, Industrial Automation, Network Power, Climate Technologies, and Commercial & Residential Solutions. Sales in fiscal 2014 were $24.5 billion. For more information, visit Emerson.com.



About Emerson Industrial Automation:

Emerson Industrial Automation (www.EmersonIndustrial.com), a business of Emerson, provides automation and power generation technologies and services to a wide range of industries. With its global capabilities and deep industry expertise, Emerson Industrial Automation is a trusted partner for products and solutions that increase machine performance, efficiency, reliability, and availability. Its industry-leading brands include Appleton®, ASCO®, Branson®, Control Techniques, Leroy-Somer®, Numatics®, O-Z/Gedney, and SolaHD.



EMERSON INDUSTRIAL AUTOMATION

7078 Shady Oak Road

Eden Prairie

MN 55344-3505

Rob Kelly

Phone: +1 952 995 8173

Fax: -

rob.kelly@emerson.com



Emerson Industrial Automation, Control Techniques Ltd

Ty Rheoli,

79 Mochdre Industrial Estate

Newtown SY16 4LE

Chris Corfield

Phone: +44 1686 612996

Fax: +44 7818 522442

Chris.Corfield@Emerson.com



More from Electronic Components & Devices