Refrigeration / AC Compressors
Variable Speed Compressors offer optimized part-load efficiency.
Press Release Summary: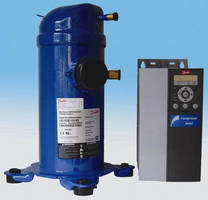 Designed for small rooftop and process cooling applications, VZH inverter scroll compressors deliver precise cooling capabilities between 4 and 6.5TR with one compressor or up to 13 tons with manifold configuration. Permanent magnet motor and Intermediate Discharge Valves (IDVs) promote part-load efficiency. Facilitating efficiency ratings up to 21 IEER, compressors can modulate from 15–100 RPS.
---
Original Press Release:

Danfoss Improves Part-Load Efficiency with Latest Range of Variable Speed Commercial Compressors



The company announces extension of compressor range, showcases high part-load efficiency manifold configurations during the 2014 AHR Expo



NEW YORK CITY – During the 2014 AHR Expo®, Danfoss, the global leader in commercial compressors, announced it will extend its inverter scroll compressor range VZH in 2014 to include three new models. The variable speed VZH compressors provide superior efficiency at part-load conditions, can improve efficiency by more than 30 percent compared to fixed-speed compressors, and offer precise cooling capabilities.



Designed for small rooftop and process cooling applications, the new inverter scroll compressor range VZH will introduce cooling capacities between 4 and 6.5TR with a single compressor, and up to 13 tons with a manifold configuration. With a permanent magnet motor and patented Danfoss Intermediate Discharge Valves (IDV), which can help improve part-load efficiency by up to 24 percent, the new variable speed compressor range VZH will facilitate efficiency ratings up to 21 IEER and can modulate from 15 to 100 RPS.



Additionally, a pre-qualified package, including the Danfoss inverter scroll compressor VZH and drive optimized to work together, is fully integrated to save time in unit development, ensure a more reliable solution to improve product time to market, and enhance overall system efficiency.



The first VZH models were released in December 2012, ranging from 13 to 26TR and suitable for chiller and large rooftop applications.



Manifold compressors offer higher part-load efficiency



To improve reliability and part-load efficiency of large chillers and rooftop units with manifold compressors, Danfoss designed its 40-ton scroll compressors and SH large compressors to be capable of retaining oil in non-operating compressors under part-load operation. This design reduces the risk of failure due to poor lubrication, and improves heat transfer in the evaporator – boosting overall system efficiency.



Compressors in manifold configurations also improve uptime, and reduce costs and sound levels.



For more information:

Amy Wagner

Godfrey PR

phone: 717-393-3831, ext. 159

email: awagner@godfrey.com



Related links:

http://cc.danfoss.com



Direct reader inquiries to:

Lisa Tryson

Director, Corporate Communications & Public Relations

Danfoss

phone: 410-513-1142

email: LisaTryson@danfoss.com



Danfoss is a global leader focused on energy-efficient solutions that save energy and costs, and reduce carbon emissions. The company's wide range of products and services are used in areas such as cooling food, air conditioning and heating buildings, controlling electric motors and powering mobile machinery. The company also is active in the field of solar and wind power as well as district heating and cooling infrastructure for cities and urban communities. Danfoss was founded in 1933 in Nordborg, Denmark. Today, the Group employs around 23,000 employees and sells its products in more than 100 countries around the world. Read more about Danfoss at www.danfoss.us. Learn about its energy-efficient solutions at: http://www.danfoss.com/SolutionsReady/.



With sales offices and production facilities located throughout North America, Danfoss has the local support necessary to help our customers solve their greatest challenges. Through EnVisioneeringSM, Danfoss creates engaged partnerships with our customers by combining engineering innovation to develop products and solutions that are energy efficient and environmentally responsible, while also helping to reduce emissions and ensure sustainable business growth. For more information about EnVisioneering, visit www.envisioneering.danfoss.com.

More from Machinery & Machining Tools