Variable Speed Blowers are built for optimal service life.
Press Release Summary: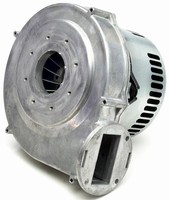 Designed for gas-fired burner systems, Nautilair® 7.6 in. blowers incorporate brushless dc motors for reliable performance in excess of 20,000 hr with minimal maintenance. These pre-mix burner blowers deliver measured air/fuel mixture to optimize combustion as well as reduce N2O and CO emissions. Speed can be adjusted internally via onboard potentiometer or external PWM or dc control that actively varies blower performance, and onboard IntelliGen(TM) controller electronics integrate DSP.
---
Original Press Release:

Nautilair® 7.6" Variable Speed Brushless Blowers Offer Reliable and Long Service Life



Designed for Gas-Fired Burner Systems:

Nautilair® 7.6" (192mm) variable speed blowers for gas-fired burner systems incorporate brushless DC motors to enable reliable performance in excess of 20,000 hours with minimal maintenance. These pre-mix burner blowers are designed to deliver a measured air/fuel mixture to optimize combustion and reduce nitrous oxide and carbon monoxide emissions. Applications include commercial and residential boilers, water heaters, furnaces, foodservice equipment, kilns, and fuel cells, among others.

They offer practical alternatives to conventional fixed speed or two-speed blowers, intake damper systems on fixed speed blowers, or inverter-driven variable speed blowers. When used with a modulating gas valve, these compact, lightweight, rugged, versatile, and high-speed solutions can satisfy a wide range of system designs.

The blowers accept line voltage input of 12 VDC, 24 VDC, 120 VAC, and 240 VAC, depending on model, and internal electronics convert AC input to DC. Maximum sealed pressure capabilities up to 45 in. of H2O and maximum open flows exceeding 160 CFM can be achieved. Speed can be adjusted internally with an onboard potentiometer or with an external PWM or DC control that actively varies blower performance (eliminating a need for complex air intake damper systems).

Onboard IntelliGen(TM) controller electronics integrate a factory-programmed digital signal processor (DSP). Custom option cards can tailor performance for application.

AMETEK Technical & Industrial Products is a unit of AMETEK, Inc., a leading global manufacturer of electronic instruments and electromechanical devices with annual sales of more than $1.8 billion.

Contact Shannon Booth, AMETEK Technical & Industrial Products, 627 Lake Street, Kent, OH 44240. Phone: 330-673-3452. Fax: 330-677-3306. Web site: www.ametektechnicalproducts.com

More from HVAC