DC to AC Power Supplies (Inverters)
Variable Frequency Inverters utilize Vectrue technology.
Press Release Summary: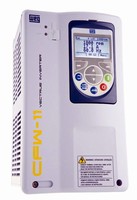 Combining V/F, Sensorless Vector, VVW, and vector (with encoder) control techniques in single unit, WEG CFW11 Vectrue Inverters are suited for 3-phase ac induction motor control. Built-in memory card allows users to create functions without use of any external PLC, while connect and use technology automatically recognizes and configures the accessories and options being used. Inverters come with normal and heavy-duty ratings with flange and surface mounting options.
---
Original Press Release:

WEG CFW11 Vectrue Inverters Improve Motor Control, Enhance Efficiency with Greater Functionality



WEG CFW11 Vectrue Inverters

ATLANTA, Georgia, August 19, 2008 - WEG Electric Motors Corp. (www.weg.net), a leading global supplier of motors, drives, controls, transformers, and generators, is launching a new series of variable frequency inverters, featuring the world's most advanced technology for three-phase AC induction motor control. Vectrue Technology(TM) allows this new generation of WEG inverters to combine V/F, Sensorless Vector, VVW, and vector (with encoder) control techniques-all in one product.

Aimed at increasing productivity, the new CFW11 line of frequency inverters offers efficiency ratings greater than 97%, as well as innovations designed to improve motor control and operational functions.

Their Plug and Play (connect and use) technology automatically recognizes and configures the accessories and options being used, which allows easy installation and safe operation, while eliminating manual configuration.

These new CFW11 frequency inverters also have a built-in memory card which allows users to create functions without the use of an external PLC (soft PLC via IEC61131-3 programming software). This built-in feature on all standard CFW11 inverters eliminates the need to update inverter firmware.

The new CFW11 Vectrue inverters also feature a USB connection for using Superdrive programming and monitoring software for a PC and Windows(TM) environment. Their user-friendly Human-Machine Interface (HMI) offers a backlit graphic display, as well as left and right soft keys, for quick, easy programming and operation.

Intelligent thermal management enables full protection of IGBTs, as well as the monitoring of heatsink and internal air temperature. In addition, a heatsink fan speed sensor ensures automatic control with additional protection, and can be detached easily from the unit for cleaning and maintenance.

CFW11 variable frequency inverters come with normal- and heavy-duty ratings. Two mounting options are also available: flange and surface.

For more information on the new CFW11 line of Vectrue inverters or other WEG products, please visit www.weg.net or call 1-800-ASK-4WEG.

About WEG Electric Motors Corporation
Founded in 1961, WEG has grown into a global solutions provider of industrial electrical technologies. WEG is the largest industrial electric motor manufacturer in the Americas and one of the largest manufacturers of electric motors in the world producing over ten million units annually. Committed to growth on a global scale, WEG continually invests in state-of-the-art manufacturing facilities and processes, and the development of new and improved industrial electrical solutions. WEG offers a diverse and integrated product line that includes motors, drives, controls, transformers, and generators. WEG has committed to an R&D investment of 3% of annual global sales.

Client Contacts
WEG Electric Motors Corporation
Gerardo Elias-Rodriquez: gelias@weg.net
Catherine Medler: cmedler@weg.net

WEG Electric Motors Corporation
1327 Northbrook Parkway, Suite 490
Suwanee, GA 30024
678-249-2052 Fax 770-338-1632
Product Inquiries 1-800-ASK-4WEG

www.weg.net/us

Contact Name: Catherine Medler
Title: Marketing & Branding Specialist
E-mail: cmedler@weg.net

More from Chemicals & Gases