AC Motor Controllers and Drives
Variable Frequency Drive controls 1-800 hp motors.
Press Release Summary: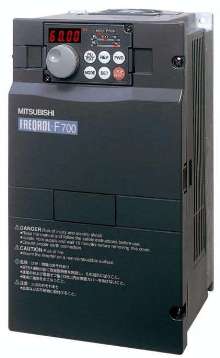 Available for 200 or 400 V supplies, F700 series inverter features proprietary energy optimization software and can control up to 4 pump or fan motors. Programming is facilitated by jog dial, which provides access to 400 parameters. NEMA 1 structure allows for safe, secure installations in panel or as stand-alone module. Features include Optimum Excitation Control system, power dip ride-through and remote I/O capabilities, and independent RS-485 connections.
---
Original Press Release:

Variable Frequency Drive from Mitsubishi Electric Automation Controls Motors from 1 to 800 Horsepower


VERNON HILLS, ILLINOIS, October 12, 2004 - Mitsubishi Electric Automation, Inc., a global supplier of automation products to all major industries, has introduced its F700 series of variable frequency drives (VFDs) that can control motors ranging from one to 800 horsepower. The F700 inverter features the latest version of Mitsubishi Electric's proprietary energy optimization software that boosts motor efficiency to new levels and maximizes energy savings.

"This new drive is suitable for virtually any general purpose application that involves a motor, whether it's on the shop floor, air-handling unit or machine room," said Chris Cusick, marketing manager for Mitsubishi Electric Automation. "The unprecedented range of the F700 makes it one of the most versatile VFDs on the market. Available for either 200V or 400 V supplies, from 1-800HP, each VFD can control up to 4 pump or fan motors, resulting in significantly shorter payback times and reductions in maintenance costs in energy saving."

The F700 is a totally new design from Mitsubishi Electric, and features a new power module and hardware. Its NEMA 1 structure allows for safe, secure installations, whether in a panel or as a stand-alone module. Ease-of-programming is also a key benefit made possible by a jog dial that provides fast access to any of its 400 parameters. The F700 also incorporates an Optimum Excitation Control system that maximizes motor efficiency under all load conditions, and can even track and display energy and dollar savings in real time. Robust protective features help ensure that the drive will keep running despite fluctuations or interruptions in power.

The F700 VFD includes these new features:

· NEMA 1 enclosure designs: The drive can be mounted as a stand-alone unit where required.

· Ease-of-Programming: No more tedious scrolling to access parameters thanks to the new DU07 programming dial and FR-Configurator programming software.

· Windmill Start: The F700 measures residual motor slot ripple to determine both the rotation speed and direction of a coasting motor, and can swiftly and smoothly bring it under control when required, whichever way it's spinning.

· Enhanced Energy Savings: An improved version of Mitsubishi Electric's famous energy optimization software boosts motor efficiency by up to 12% over earlier generations, and intelligently maximizes energy savings.

· Energy Saving Signal: The F700 can calculate and display energy savings, either in dollars or kW/h.

· Power Dip Ride-through: This allows the inverter to run during short power supply interruptions, thus reducing nuisance tripping.

· Regeneration Avoidance: The F700 measures DC bus levels when decelerating and controls drive speed to eliminate nuisance tripping.

· Advanced PID Mode: Settings now include a "sleep" mode, as well as a pump scheduling feature to allow the intelligent control of up to four motors at once.

· Remote I/O Capability: I/O can be configured over a network to work independently of the drive, reducing costs and making more efficient use of available network nodes.

· Programmable Timer: Useful in planning scheduled machine maintenance, the advanced timer can generate a signal dependent on drive operating time.

· Independent RS 485 Connections: Serial communications and keypad operation can take place at the same time with no options needed. The F700 supports Modbus RTU as well as standard Mitsubishi Electric protocol.

· Improved Fieldbus capability: Profibus DP, Lon Works, CC-Link, DeviceNet, Modbus Plus and Metasys N2 are available as options.

· Global Standards Compliance: UL, cUL, GOST, JEM and CE certifications for use in Europe as well as North America. A radio filter is included in the drive as standard to meet European EMC levels as necessary.

About Mitsubishi Electric Automation, Inc. (MEAU)

Mitsubishi Electric Automation, Inc. a U.S. subsidiary of Mitsubishi Electric Corporation of Japan, supplies factory automation solutions such as programmable logic controllers, human-machine interfaces (HMI), programming and control software, variable frequency drives, motion products including computer numerical controllers (CNC) and servo controls. Mitsubishi Electric has sales and service facilities throughout North America that support pre-sale application support and post-sale service requirements. In addition, Mitsubishi provides solutions for power protection applications with its lines of three phase, single phase and single-phase line interactive uninterruptible power systems. Mitsubishi Electric serves a broad range of industrial markets, applications and customers including the automotive, wood, machine tool, semiconductor, textile and commercial markets, and applications such as material handling, packaging, printing and specialty machinery.

For more information, visit www.meau.com.

Contact
Lori Bacharz
Mitsubishi Electric Automation, Inc.
847.478.2417
bacharzl@meau.mea.com

More from Test & Measurement