Variable Flow Tubing Pumps suit low-medium viscosity liquids.
Press Release Summary: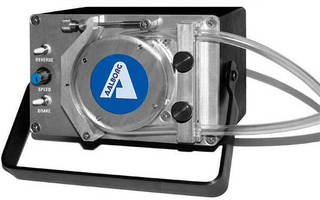 Offered in fixed or adjustable speed versions, Model TPU variable flow tubing pumps feature adjustable occlusion, chemically resistant tubing materials, and peristaltic pump head technology. They are available with electronic speed control, dynamic break switch, optional DC gear motors, and 4 stainless steel rollers that minimize pulsation. Tubing IDs are 1/8, 3/16, ¼, 5/16, and 3/8 in., each with 1/16 in. wall thickness. Self-priming pumps feature 115 or 230 V service.
---
Original Press Release:

Aalborg®'s New Variable Flow Tubing Pumps



Aalborg®'s new Model TPU Variable Flow Tubing Pumps are ideally suited for liquids of low to medium viscosity. Chemically resistant tubing materials and new peristaltic pump head technology combine to meet the demands for reliable, long-term pump operation. Four stainless steel rollers minimize pulsation and promote longer tube life.

Pump options include pump heads (motors optional) and complete pumps (with fixed or variable speeds). Adjustable Speed models allow manual (push button) and remote (user-selectable) dispensing functions.

The TPU's tube set-up, changes, and replacements are quick and easy. Tubing inside diameters are 1/8", 3/16", ¼", 5/16", and 3/8", each with a 1/16" wall thickness. Fixed Speed and Adjustable Speed models are offered. The size and material of the tubing selected affect the flow rate.

Pump Design Features

o Economical.

o Fixed or Adjustable Speed models

o Adjustable occlusion.

o Self-priming, including optional priming switch for specified models.

o Compact, small footprint design.

o 115V or 230V service.

o Optional DC gear motors available.

o Directional Switch included for specific models.

o Dynamic Break Switch available.

o Electronic Speed Control available.

Industry-specific applications include: science and research, OEM, processing, engineering, pharmaceutical production, food manufacturing, and beverage dispensing.

More from Printing & Duplicating Equipment