Variable Displacement Piston Pump is compact and quiet.
Press Release Summary: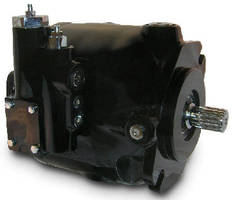 Axial piston pumps of 45cc/rev P1/PD Series are optimized for medium-pressure open-circuit mobile (P1) and industrial (PD) applications. Available with optional torque limiter or as full power through-drive version, series is rated for continuous operation at pressures to 280 bar. Operating efficiency lowers electricity demands, while noise output level can reduce or eliminate need for insulation and help comply with OSHA hearing conservation standards.
---
Original Press Release:

Parker Expands P1/PD Piston Pump Family with New 45cc Model; Compact, Quiet, Efficient Pumps Ideal for Medium-Duty Mobile and Industrial Use



MARYSVILLE, OH - A 45cc/rev P1/PD Series pump is now available from Parker Hannifin, the global leader in motion and control technologies. The variable displacement, axial piston pump is design optimized for medium-pressure open-circuit mobile (P1) and industrial (PD) applications.

With the addition of the 45cc displacement to the current family of 60, 75, 100 and 140cc/rev P1/PD models, Parker can provide a solution for the majority of today's medium-duty applications. The 45cc P1/PD will be available with an optional torque limiter to increase fuel/electricity efficiency by enabling the use of a smaller prime mover, thus reducing weight and saving customers dollars. As well, an optional full power through-drive version is available for applications requiring multiple pumps.

Parker P1/PD Series pumps drive value to customers in many other ways. For example, the pumps' high operating efficiency equates to lower electricity costs when used to power industrial machines. In a manufacturing facility, their low noise output reduces or eliminates the expense of insulation while helping customers comply to OSHA hearing conservation standards. Furthermore, the pumps' compact size provides mobile equipment designers with a greater number of mounting options in applications with small space requirements.

"We're pleased to report that strong customer acceptance in the three years since the P1/PD was introduced, along with our continued development for this product line, has prompted this most recent extension," said Robert Lorance, marketing manager, Parker Hannifin Corporation, Hydraulic Pump Division. "Our pumps' high efficiency, low noise and robust design - combined with our quick turnaround times - make the P1/PD a valued addition to an OEM efficient hydraulic system."

Lorance noted P1/PD Series pumps are currently used in a wide range of applications including concrete pumpers, oilfield power units, mining hauling trucks and horizontal drillers, marine bow thrusters, military transport vehicles, water jet cutters, plastic extrusion machines, head presses and injection molders, among many others.

"In particular, our 45cc displacement P1 has been welcomed in the burgeoning fan drive market," added Lorance. "The pump's compact size and high efficiency are making it the top choice for our customers in this industry. By using the P1-045 in a variable electro-hydraulically controlled fan system, the cooler size can be reduced by 50% and still provide up to 5% fuel savings compared to standard fixed displacement fan systems."

Rated for continuous operation at pressures up to 280 bar, P1/PD Series pumps feature:
o Compact, round housing (smaller and quieter than comparable "flat surface" designs)
o Low flow ripple to further reduce noise
o Simple hydraulic controls with "no leak" adjustments
o Elastomer seals to eliminate gaskets and external leakage
o SAE and ISO standard mounting flanges and ports
o Tapered-roller shaft bearings
o Low friction, hydrostatically balanced swash plate saddle bearings
o Full power through-drive capability
o End or side inlet and outlet ports
o Case drain ports for horizontal or vertical shaft-up mounting
o Optional maximum and minimum volume stops
o Optional case-to-inlet check valve to extend shaft seal life

Several control options are also available:

o Standard pressure limiter
o Pressure limiter and torque control
o Load sensing with pressure limiter
o Load sensing with pressure limiter and torque control
o Pilot operated pressure limiter with vent port
o Pilot operated pressure limiter with ISO4401 interface
o Pilot operated pressure limiter with mechanical adjustment and vent port
o Pilot operated pressure limiter with electrical adjustment
o Precise proportional Digital Control Options

For more information about Parker Hannifin P1/PD Series piston pumps, visit www.phpump.com or www.parker.com.

About Parker Hannifin's Hydraulic Pump Division
The Hydraulic Pump Division was formed in 2004 when Parker Hannifin enlarged its significant piston pump business with the acquisition of Denison Hydraulics. The division is a leading worldwide manufacturer of hydraulic components and systems for earthmoving, drilling and construction vehicles; for mining equipment; for pulp and paper, chemical and other processing equipment; for ships and ordnance equipment; and for such in-plant machines as machine tools, plastic molding, die casters and stamping presses.

With annual sales exceeding $12 billion, Parker Hannifin is the world's leading diversified manufacturer of motion and control technologies and systems, providing precision-engineered solutions for a wide variety of commercial, mobile, industrial and aerospace markets. The company employs approximately 62,000 people in 48 countries around the world. Parker has increased its annual dividends paid to shareholders for 52 consecutive years, among the top five longest-running dividend-increase records in the S&P 500 index. For more information, visit the company's web site at www.parker.com, or its investor information site at www.phstock.com.

CUSTOMER CONTACT:
Peter Medins
Marketing Product Manager
Parker Hannifin Corporation
Hydraulic Pump Division
email: pmedins@parker.com
phone: 269.692.6531

More from Controls & Controllers