Vapor-Proof Lights produce low-glare illumination.
Press Release Summary: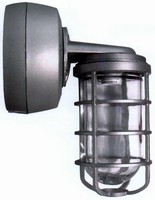 Designed for ceiling or bracket wall mounting, 387 HID/Compact Fluorescent Light (CFL) Vapor Proof Series fixtures are UL rated and certified for use in wet and non-hazardous locations. Die cast aluminum housing accommodates 50, 70, or 100 W high-pressure sodium light or corresponding metal halide medium base lamps. Small die cast aluminum housing accommodates 13 and 26 W CF triple tube, while larger housing accommodates 32 and 42 W CF triple tube.
---
Original Press Release:

LDPI Lighting Expands Its Vapor Proof Line



Eau Claire, WI - LDPI Lighting has expanded its product line of vapor proof lights with the addition of the 387 HID/Compact Fluorescent Light (CFL) Vapor Proof Series. The fixtures are UL rated and certified for use in wet and non-hazardous locations. The 387 HID line and CFL fixtures are designed for either ceiling or bracket wall mounting.

The 387 sturdy die cast aluminum housing can accommodate a 50-, 70-, or 100-watt high-pressure sodium light or corresponding Metal Halide medium base lamps. The prismatic globe is designed for low glare and even light distribution. The ceiling mount measures 7 1/2" (19 cm) in diameter and 13 1/4" (33.6 cm) long, while the bracket mount version extends 10" (25.4 cm) from the wall and is 13 1/4" (33.6 cm) long.

Corresponding ceiling and wall bracket mounted versions are also available with the 387 CFL. Diameter for the ceiling mount is 6" wide (15.2 cm), while lengths measure 9 3/4" (24.7 cm) and 12" (30.5 cm) respectively. The 387 CFL bracket mount extends to 8 1/2" (22 cm) from the wall and is available in lengths up to 12 1/2" (32 cm). A small die cast aluminum housing accommodates a 13- and 26-watt compact fluorescent triple tube, while a larger size housing can accommodate a 32- and 42-watt compact fluorescent triple tube.

Both fixtures can be mounted into a junction box or wired inside the housing. A weatherproof ballast box and high temperature silicone internal gaskets add to the durability of the product. Easy lamp replacement by the turn of a thumbscrew helps reduce the time for maintenance.

Additional color options for housings, globes, lamps and other parts are available by contacting LDPI Lighting.

For more information on the 387 Series Vapor Proof and other products available from LDPI Lighting, be sure to check out the company's newly designed Web-site: www.ldpi-inc.com or contact the company's worldwide headquarters at 800 Wisconsin Street, Eau Claire, WI 54701 or call 800-854-0021. Email sales@ldpi-inc.com.

LDPI Lighting manufactures and markets a broad range of fluorescent, incandescent and HID lighting fixtures for industrial or commercial applications. LDPI specializes in illuminating areas where special circumstances exist, including explosive, hazardous, corrosive, or wet/damp environments. For additional information, contact an LDPI representative or the company's worldwide headquarters at 800 Wisconsin Street, Eau Claire, WI 54701 or call toll free: 1-800-854-0021. Email sales(5)ldpi-inc.com Web www.ldpi-inc.com

More from Software