Vapor Phase Soldering System offers inline convection alternative.
Press Release Summary: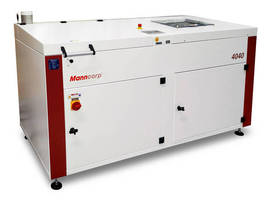 Along with 6–9 min cycle times or less, programmable 4040 provides SMT assemblers with optimized soldering quality, instant product changeovers, and 0% risk of overheating. Design enables installation in any workspace without requiring complex ductwork and external venting, while heat transfer efficacy and gentle conditions of vapor phase process minimize exhaust generation. Other features include power rating of <3 KW, multi-chamber design, and automatic board handling system.
---
Original Press Release:

Manncorp's 4040 Makes Vapor Phase a Viable Alternative to Inline Convection



Continuing in its 50-year tradition of innovation and value, Manncorp introduces the new 4040 Vapor Phase Soldering System — a new generation of vapor phase that allows SMT assemblers to easily and affordably capitalize on this trusted technology's numerous advantages.  Superior soldering quality, instant product changeovers, and 0% risk of overheating are just a few reasons vapor phase systems like the 4040 are, for many, a much better option than inline convection ovens.  This is especially true for manufacturers of high component-mix assemblies with BGAs and other complex SMDs, where uniform soldering temperatures and long-term product reliability are critical.  No longer just a niche technology for military, avionics, medical, and other hi-rel applications, the 4040 is taking vapor phase mainstream.



Designed for today's sustainable manufacturing facility, the compact 4040 Vapor Phase installs easily in virtually any workspace, without the need for complex ductwork and external venting.  The efficient heat transfer and gentle conditions of the vapor phase process generate minimal exhaust which is easily managed by any low-cost, self-contained, fume extraction system.  With a power rating of less than 3 KW (75-80% less than even the smallest convection ovens), dramatically lower electric bills will also contribute to the 4040's fast payback.



A multi-chamber design and automatic board handling system make the 4040 extremely easy and economical to operate.  The illuminated processing chamber, which includes a large 14" viewing window, is completely isolated during soldering and a fluid recovery system collects and filters condensate during cooldown.  Cycle times ranging from 6-9 minutes or less and an extra-large (18" x 16") work holder allow batch soldering of multiple boards for throughput that easily supports low- to medium-volume production requirements.



Soldering programs can be created automatically in seconds without any danger to boards or components and without time-consuming profiling.  Programs can be fine-tuned for increased efficiency and energy savings, if desired, through the use of an included thermocouple connector accessory that allows monitoring of actual board temperature throughout the soldering cycle.  Thermal profile data can also be recorded, saved, and exported through the built-in SD card slot for SPC traceability.  For more information, go to www.manncorp.com/4040-vapor-phase-soldering-system.html.



For five decades, Manncorp has supplied electronics manufacturers with the world's best values in PCB assembly equipment, direct to the customer, at the industry's most competitive prices, and with full service and support.  Offices worldwide: East (Huntingdon Valley, PA), West (San Diego, CA), Mexico, Brazil, China.



www.manncorp.com



Tom Beck

Director of Marketing

215-830-1200  x108

tbeck@manncorp.com

More from Explosives, Armaments, and Weaponry