Vanta™ VCA Handheld XRF Analyzer is IP65 rated.
Press Release Summary: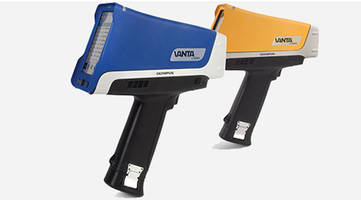 Vanta™ VCA Handheld XRF Analyzer is integrated with 50 kV silver X-ray tube. Unit is operated in a temperature range of -10 °C to 50 °C and features an optional Wi-Fi connectivity. Product is used for elemental analysis and quantification in alloys and comes with 3-year warranty. XRF Analyzer uses Axon™ technology with an intuitive interface.
---
Original Press Release:
One Tool, Multiple Applications - the New Vanta™ VCA Handheld XRF Analyzer Measures a Wide Range of Elements
The new Olympus Vanta VCA model delivers power and performance for customers who use their XRF analyzers for multiple applications, such as alloy and RoHS. Rounding out the Vanta family, the VCA model is equipped with a 50 kV silver (Ag) X-ray tube for comprehensive analytical performance.
The Vanta VCA model delivers the flexibility to handle multiple applications and works in a diverse range of harsh environments. Built for maximum uptime and reliability, Vanta VCA models are IP65 rated for protection against dust and water and are drop tested (MIL-STD 810 G). For working in hot or cold environments, Vanta analyzers are built to withstand a temperature range of -10 °C to 50 °C (14 °F to 122 °F)*. Vanta analyzers are so rugged that Olympus backs them with a 3-year warranty.
When performance counts, Vanta VCA models provide fast and accurate elemental analysis and quantification in alloys in as little as 1–2 seconds. The revolutionary new Axon™ technology combined with an intuitive interface produce results that are fast, accurate, reliable and easy to obtain. Easy-to-use hardware and software enable new operators to begin using the device with minimal training, and optional Wi-Fi connectivity enables powerful cloud functionality.
Fast, rugged and powerful, Vanta VCA models provide a flexible solution for customers who want to use their handheld XRF analyzer for multiple applications.
For more information about Vanta handheld XRF analyzers and Olympus' line of nondestructive testing products, contact a sales representative or visit www.olympus-ims.com.
About Olympus
Olympus Corporation operates in industrial, medical, and consumer markets, specializing in optics, electronics, and precision engineering. Olympus is a world-leading manufacturer of innovative test and measurement solutions that are used in industrial and research applications ranging from aerospace, power generation, petrochemical, civil infrastructure, and automotive to consumer products.