Vane Spindles help make difficult measurements.
Press Release Summary: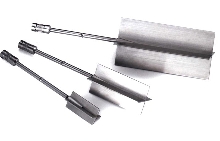 For use with company's viscometers and rheometers, vane spindles are suitable for making viscosity measurements on paste-like materials and other fluids where suspended solids typically migrate away from measurement surface of standard spindles. Vane spindles minimize disruption of sample during spindle immersion. In fluids with suspended particles, rotational motion of vane spindles help keep particles in suspension during test cycle.
---
Original Press Release:
New Vane Spindles from Brookfield

Middleboro, MA - Brookfield Engineering introduces vane spindles for use on standard Brookfield Viscometers and Rheometers. The vane spindles are ideal for making viscosity measurements on paste-like materials and other fluids where the suspended solids typically migrate away from the measurement surface of standard spindles.

Vane spindles minimize disruption of the sample during spindle immersion; and in fluids with suspended particles, the rotational motion of the vane spindles may help keep the particles in suspension during the test cycle. They provide the ability to obtain complete flow curve analysis. Viscosity measurement data will show both the pseudoplastic and thixotropic properties of the test material. In addition, when running at low rotational speeds, yield behavior of the material can be evaluated.

The three-piece spindle set provides for versatile range capability. The spindle dimensions feature a "two to one," "length to diameter" ratio. The viscosity measurement range depends upon the spring torque in the viscometer/rheometer in use. For the Brookfield RV torque range the viscosity measurement capability goes from 255 cP to 53,900 cP and the shear stress capability goes from 0.5 Pa to 100 Pa.

For a free brochure featuring Brookfield's new Vane Spindles, contact Brookfield at 800-628-8139 or visit us on the web at wwwv.brookfieldengineering.com.

STEBBINGS ASSOCIATES
Public Relations Division
427 John L. Dietsch Blvd., Attleboro Falls, MA 02763
T-508.699.7899 F-508.699.7897 [email protected] W-www.stebbings.com