Valve Nozzles have interchangeable thermocouple and heater.
Press Release Summary: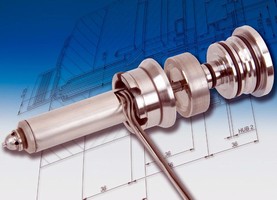 Designed for medical and packaging market, Valve Shot line of hot runner nozzles feature front sealing diameter of 10 mm, body diameter of 16.5 mm, and length of 80-140 mm to support small cavity centers. They come with gate bubble geometry to meet industry requirement of color change capability. Suited for processing polyolefin and styrene in weight range of 5-25 g, units are supplied as standard in combination with pneumatic needle valves Z10750.
---
Original Press Release:

Multi-Cavity Needle Valve Applications for the Medical and Packaging Market



HASCO has developed its new Z3145/ ... Valve Shot line of hot runner nozzles especially for demanding applications in the medical and packaging industry. When designing the new nozzle range, particular attention has been given to the specific needs of processors in this field.

The new HASCO needle valve system allows optimum process control. Balanced filling of all the cavities is guaranteed by simultaneous opening of the valve pins after a certain amount of pressure has built up. Optimum transmission of the holding pressure is ensured, along with avoidance of stringing and drooling of melt from the gates.

The design of the nozzle also ensures long life of the gate thanks to the needle guidance being close to the gate with minimum needle stroke. To meet the industry requirement of good colour change capability, the new nozzle line has a cleverly designed gate bubble geometry.

The Valve Shot is best suited for processing polyolefins and styrene in a shot weight range of 5-25 g. With a nozzle front sealing diameter of only
10 mm, body diameter of 16.5 mm and finely scaled nozzle lengths of 80 to 140 mm, it is possible to work with small cavity centres and also reach difficult gating positions on the article.

This line of nozzle is also particularly maintenance-friendly because of the interchangeable thermocouple and heater. Through the flexible position of the heating outlet, the nozzle components can be changed after pulling the mould plate apart on the machine. Dismantling the mould is unnecessary, thus significantly shortening downtime and maintenance.

Additionally, the needle valve pin can be changed on the machine and adjusted from the rear without dismantling the hot runner. If necessary, individual cavities can be switched off and the relevant needle can be held in the closed position.

The nozzles are supplied as standard in combination with the pneumatic needle valves Z10750/.... Alternatively, other conventional drive systems such as the electromagnetic drive with HASCO Z1081/... can be implemented.

With this absolutely media-free drive system, the possibility of contamination of clean production environments through the needle drive system can be completely excluded.

With the outstanding cost performance ratio of the Z3145/..., HASCO is able to offer a manifold needle valve solution for the price of a conventional open system without any compromise on quality.

Along with a long-life heater, only high-quality materials are used for the nozzle bodies, needles, needle guides and drive components. All the parts are manufactured to the finest of tolerances.

Last but not least, the high level of standardisation of this nozzle line ensures optimum availability of spare and wear parts anywhere in the world through HASCO's global service network.

Information: Ralf Ronge, Annette Lampe
HASCO Hasenclever GmbH + Co KG, Germany
Tel. 02351/957-500 or 957-503

More from Thermal & Heating Equipment