Valve Key Sockets solve problem of worn valve nuts.
Press Release Summary: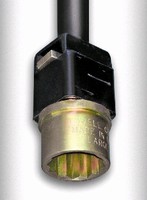 When attached to valve key, Valve Key Sockets are designed to securely grip valve nuts that may have become rounded or corroded. Each kit contains small, medium, and large sockets, as well as hardware for connecting each socket to valve key. All sockets are made of zinc-plated, hardened steel and are high-visibility yellow to help locate them in low light conditions. Carrying case houses all components.
---
Original Press Release:

New Valve Key Sockets Solve Problem of Worn Valve Nuts, Save Time and Money



WORCESTER, MA October 1, 2007 . . . Lowell Corporation's new Valve Key Socket Sets can help utility workers solve the problem of valve nuts that have become rounded or corroded. When attached to a valve key (not included with the set), the sockets are designed to easily and securely grip valve nuts in the toughest environments.
During line breaks or other emergencies, costs can escalate quickly. If workers cannot immediately close the appropriate valve, roads may need to be closed and torn up. Sometimes, the entire water supply must be shut down, causing extreme inconvenience to customers and potential hazards for fire departments who must rely on the ready availability of water. In some cases, electricity must be turned off as well. With a Lowell socket on a valve key, workers have a much better chance of quickly and easily dealing with stubborn or damaged valves. Significant savings of time and money can result.

Each Lowell socket kit comprises three valve key sockets, small. medium, and large, and the hardware for connecting each socket to a valve key. All sockets are made of rugged, zinc-plated, hardened steel and all are a high-visibility yellow color to make locating them easier during low light conditions. A durable carrying case houses all components.

Operation is simple. First a worker attaches the correct socket to a valve key with the screw and attachment plate included in the kit. Once the socket is positioned onto the valve nut, the worker firmly hammers the top of the valve key to force the socket onto the nut and secure it. The worker can then open or close the value as normal.

There are several benefits of the new sockets. Each socket is compact, as is the carrying case for the set, which makes storage convenient. The simple but rugged construction requires little maintenance. And because these are tools dedicated to a single purpose, they are less likely to be stolen than multiple use tools.

Lowell's valve key sockets are sold only in sets of three at a cost of $186 per set.
Like all of the company's products, Lowell's valve key sockets are guaranteed against defects in material and workmanship for a period of one year from date of delivery.

Started as the Lowell Wrench Company in 1869, Lowell Corporation is a leading American manufacturer of ratchet technology for hand tools and machinery. The company makes ratchet arms, socket wrenches, ratchet and roller clutches, and related products used by civilian industry, the military, and utilities. Lowell sells its products both nationally and internationally.

For more information about the Lowell wrench sets, or for a full-line catalog, call 800/456-9355 or 508/835-2900, or email customerservice@lowellcorp.com. The web address is www.lowellcorp.com.

More from Portable Tools