Valve Doors reduce contamination in semiconductor processes.
Press Release Summary: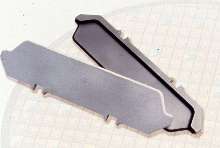 UHP Ultra-High Purity slit valve and gate valve doors feature fluorocarbon or perfluorinated elastomer seals, chemically bonded to aluminum or steel. UHP Gate Valve Door(TM) provides OEMs and chip fabricators with original and/or replacement door offering abrasion resistance and seal integrity. UHP Slit Valve Door(TM) reduces potential contamination by up to 95%, while increasing wafer yield by up to 10 times.
---
Original Press Release:

Ultra-High Purity Slit Valve and Gate Valve Doors Improve Productivity in Semiconductor Processing


IRVINE, CA - Parker Hannifin's Seal Group has introduced UHP (ultra-high purity) slit valve and gate valve doors that feature fluorocarbon or perfluorinated elastomer seals chemically bonded to aluminum or steel. Installed in semiconductor processing equipment, these doors dramatically reduce process contamination and downtime for maintenance and replacement.

Parker's UHP Gate Valve Door(TM) is designed to provide OEMs and chip fabricators with an original and/or replacement door option that offers improved abrasion resistance and seal integrity. Particle generation is up to four times less than that of other doors, resulting in a cleaner process stream and extended service life.

Developed with a leading semiconductor manufacturer, The Parker UHP Slit Valve Door(TM) also features a molded-in-place, perfluorinated or fluorocarbon elastomer seal. The bonded seal design increases service life up to ten times over doors with conventional o-ring in dovetail groove assemblies. The UHP Slit Valve Door reduces potential contamination by up to 95%, while increasing wafer yield by up to 10X.

Seals on the Parker doors are available in a variety of fluorocarbon materials, as well as Parker's Parofluor(TM) Series Advanced Perfluorinated Elastomers, which combine ultra-high purity with excellent resistance to extreme chemicals and high temperatures. Both door types are processed and packaged in Parker's ultra-high purity manufacturing cells using a batch-traceable statistical process control program.

In addition to sealing products such as the UHP doors, Parker has developed a range of customer resources, including a dedicated product/applications staff, finite element analysis(FEA)-assisted design and Total inPHorm(TM), a seal design and material selection software program.

For more information on Parker's UHP doors, request free copies of the UHP Slit Valve Door Technical Bulletin (CSS 5114) and the UHP Gate Valve Door Application Bulletin (CSS 5115) by calling 1-800-C-PARKER. Or download the bulletins from Parker's online literature gallery at www.parofluor.com.

Please send inquiries to:
Mark D. Halloran
Marketing Communications Manager
Parker Hannifin Seal Group
14300 Alton Parkway
Irvine, CA 92618
Tel: (949) 851-3756
Fax: (949) 851-3798
mhalloran@parker.com

Technical Questions:
Ray Hammi
Market Manager - Semicon
Parker Hannifin Seal Group, CSS Division
7664 Panasonic Way
San Diego, CA 92154
Tel: (619) 671-3376
Fax: (619) 671-3206
rhammi@parker.com

More from Electronic Components & Devices