Valve Cages help prevent workplace injuries.
Press Release Summary: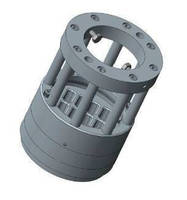 Made of corrosion-resistant steel, ZVI Valve Cages have large rounded ports which can be directly fastened to valve. ZVI Valve Cage-Integral features ZVI StraightFlo Valve and does not need to be removed during servicing, installation, or removal of valve from cylinder. ZVI Valve Cage-Removable can be used with ZVI SF Valve or with conventional valves. Based on Modular Reed Valve technology, SF Valve can be applied to all gas compression applications.
---
Original Press Release:

New ZVI Valve Cages from Zahroof Valves Helps Prevent Workplace Injuries during Servicing of Compressor Valves



New Valve Cages dramatically reduces injuries to extremities when changing valves



HOUSTON,  -- Zahroof Valves, Inc. (ZVI), established with a focus on improving the performance of reciprocating compressors through the introduction of its game changing compressor valve and industry-leading 10 year warranty, today announced the launch of its newest products: the ZVI Valve Cage-Integral and the ZVI Valve Cage-Removable.



The lighter ZVI Valve Cage assembly is safer and easier to install and remove than conventional valve and cage assemblies, especially for larger discharge valves. The ZVI Valve Cages have a better flow path for gas with larger rounded ports which can be directly fastened to the ZVI valve. Made of corrosion resistant steel, similar to the valve body itself, the cage will not corrode under normal conditions and is easily repairable, reducing unnecessary costs.



The ZVI Valve Cage- Integral features a ZVI StraightFlo (SF) Valve with a cage that does not need to be removed from the valve during servicing of the valve, installation or removal of the valve from the cylinder. Available for valves of all sizes, the ZVI cage's height can be easily modified to accommodate spacers or new valves.



The ZVI Valve Cage - Removable can be used with a ZVI SF Valve or with conventional valves. In the case of an existing SF Valve, it can be directly fastened to the valve, making installation and removal of the valve safer and easier, without the need of special tools.



In 2014, 1.5 cases of injury per 100 full time employees were reported in the oil and gas industries.  Of those cases, 0.8 injuries per 100 full time employees resulted in lost days of work, job transfer or job restriction with many of these injuries related to the hand and arm areas.



"The ZVI Integral Valve cage is a revolutionary advancement in safety measures," says Zahroof Valves CEO Anthony Gioffredi. "It is now safer than ever to replace valves currently in use, dramatically reducing injuries to hands and arms, while reducing service downtime."



The ZVI StraightFlo Valve is a patent-pending, revolutionary, reciprocating compressor valve technology that results in step improvements in valve performance through its unique design. The innovative design, based on the patented Modular Reed Valve technology, delivers a step change in reciprocating compressor performance, serviceability and reliability while reducing gas emissions to the environment. In addition to its 10 year warranty on its valve housing, the ZVI StraightFlo Valve has proven to improve valve efficiency by up to 40% and significantly extend run time between valve service intervals. The unique design of the SF Valve can be applied to all gas compression applications including:



--  Natural gas gathering, production, transmission and storage

--  CNG

--  Injection

--  FPSO

--  Fuel gas boosting

--  CO2 Enhanced Oil Recovery

--  Hydrogen

--  Air compression

--  Industrial gas

--  Refrigeration



Learn more about the ZVI Valve Cage or StraightFlo Valve at www.zahroofvalves.com.



About Zahroof Valves, Inc.

Zahroof Valves, Inc. (ZVI) is an innovative company, headquartered in Houston, Texas, that has developed and markets the revolutionary StraightFlo (SF) Valve for use in reciprocating gas compressors. The SF Valve delivers a step change in valve performance, serviceability and reliability. As a result of these proven and measured improvements, in applications above 800 rpm, ZVI is able to guarantee a 10% improvement in valve efficiency and a 25% increase in service interval. For more information, visit www.zahroofvalves.com.



Media Contact: Sara Gardner, 1-888-317-4687 ext. 702, Email

More from Computer Hardware & Peripherals