Valeritas Presents Data Demonstrating V-Go® Wearable Insulin Delivery Device Significantly Reduces A1C and Insulin Requirements in Patients with Type 2 Diabetes, When Combined with a Simplified Insulin Titration Algorithm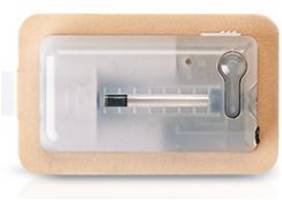 BRIDGEWATER, N.J., Feb. 15, 2018 - Valeritas Holdings, Inc. (NASDAQ:VLRX), a medical technology company which offers patients with type 2 diabetes V-Go® Wearable Insulin Delivery device, a simple, affordable, all-in-one insulin delivery option that is worn like a patch and can eliminate the need for taking multiple daily shots, announced today it presented positive findings from its MOTIV4CONTROL study as a poster at The 11th International Conference on Advanced Technologies & Treatments for Diabetes (ATTD), February 15 to 17, in Vienna, Austria.
This retrospective study evaluated the safety and efficacy of a simple physician-driven insulin titration algorithm in adult patients diagnosed with T2D prescribed V-Go. Using four-point (fasting and 2-hour postprandial breakfast, lunch, and dinner) self-monitored blood glucose profiles, an algorithm recommended bolus up-or down-titration based on glucose readings. After four months of V-Go use, with insulin dose adjustments occurring predominantly during the first three weeks, an A1C target of 7.5% or lower was achieved in 67% of the study's fifteen participants. A mean significant A1C reduction of 1.6% (8.7 to 7.1%; p<0.001) was also observed with a significant decrease in the mean total daily dose of insulin (144 to 60 U/day; p=0.002). Hypoglycemia prevalence decreased from 23% at baseline to 7% of patients by month four.
"This study demonstrates that V-Go, combined with a simplified insulin titration algorithm, can reduce A1C levels, insulin usage and the prevalence of hypoglycemia," said John Timberlake, President and Chief Executive Officer of Valeritas. "While we remain focused on growing our customer base in the U.S., we welcome opportunities such as at the ATTD to present our compelling clinical data to European audiences as we explore potential commercial partners to distribute V-Go in the region."
About Valeritas Holdings, Inc.
Valeritas is a commercial-stage medical technology company focused on improving health and simplifying life for people with diabetes by developing and commercializing innovative technologies. Valeritas' flagship product, V-Go® Wearable Insulin Delivery device, is a simple, affordable, all-in-one basal-bolus insulin delivery option for patients with type 2 diabetes that is worn like a patch and can eliminate the need for taking multiple daily shots. V-Go administers a continuous preset basal rate of insulin over 24 hours and it provides discreet on-demand bolus dosing at mealtimes. It is the only basal-bolus insulin delivery device on the market today specifically designed keeping in mind the needs of type 2 diabetes patients. Headquartered in Bridgewater, New Jersey, Valeritas operates its R&D functions in Marlborough, Massachusetts.
More information is available at www.valeritas.com.
Related