Vaisala Presents HMD62 and TMD62 Transmitters with IP66/NEMA 4-Rated Metal Bodies
Press Release Summary: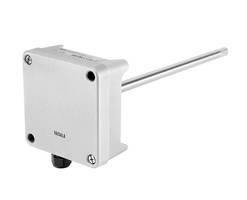 The HUMICAP® HMD62 Transmitter is used for monitoring humidity and temperature whereas the TMD62 for temperature measurements. The HMD62 unit calculates dew point, wet bulb, enthalpy, absolute humidity, and mixing ratio and delivers measurement accuracy of up to ±1.5 % RH and ±0.1 °C (±0.18 °F). It is resistant to chemicals and dust and can be configured using via Insight PC software.
---
Original Press Release:
Upgraded Performance with the New HMD60 Series Transmitters
Vaisala launched today two enhanced duct-mounted transmitter models. The new launches are designed for demanding ventilation applications in building automation systems and for light industrial applications, where accurate and stable control of relative humidity and temperature are required. 

Vaisala HUMICAP® Humidity and Temperature Transmitter HMD62 is optimized for monitoring relative humidity and temperature, whereas Vaisala HUMICAP® Temperature Transmitter TMD62 is dedicated solely for temperature measurements. The new HMD62 will replace the current HMD60U and HMD60Y, and the TMD62 will replace the current HMD60T.

Improved Usability and Accuracy
 
The new HMD62 transmitter will incorporate all the calculated humidity parameters: dew point, wet bulb, enthalpy, absolute humidity, and mixing ratio. Also, the field adjustment and calibration is now convenient with the high precision trimmers or by using the Vaisala HUMICAP® Hand-held Humidity and Temperature Meter HM70. The HMD62 is also configurable on-site by using the complimentary Vaisala Insight PC Software. The HMD62 has also improved measuring accuracy, now up to ±1.5 % RH and ±0.1 °C (±0.18 °F). 
The newly launched transmitters are resistant to chemicals and dust, and their all-metal bodies are IP66/NEMA 4-rated. Metal enclosure and robust mechanics support also the easy maintenance. Another new useful and time-saving feature of the new transmitters is the ability to open the product cover for adjustments without removing the unit from the duct.

The newly launched Vaisala HMD60 series products are equipped with the latest generation HUMICAP® R2 composite sensors. The new sensor offers improved accuracy and unparalleled corrosion resistance even in very harsh environments.

"We wanted to make the best even better. That's why we added new features to the well-known HMD60, and made no compromises in the improved accuracy and usability", says HMD60 series Product Manager Lars Stormbom from Vaisala. He continues: "The combination of these new transmitters' high accuracy, long term stability and reliability makes the products ideal choice for any HVAC or building energy management application, like for example museums, cleanrooms and laboratories."
Both of the newly launched models come with a traceable calibration certificates. The new HMD62 and TMD62 will be available for orders on September 25, 2018.
More information on Vaisala HUMICAP® Humidity and Temperature Transmitter HMD62 and 
Vaisala HUMICAP® Temperature Transmitters TMD62:www.vaisala.com/HMD60
More information for the media:
Miia Lahti
Communications Manager Industrial Measurements, Vaisala
Tel. +358 50 555 4420, miia.lahti@vaisala.com
Vaisala is a global leader in environmental and industrial measurement. Building on over 80 years of experience, Vaisala contributes to a better quality of life by providing a comprehensive range of innovative observation and measurement products and services for chosen weather-related and industrial markets. Headquartered in Finland, Vaisala employs approximately 1,600 professionals worldwide and is listed on the Nasdaq Helsinki stock exchange. www.vaisala.com, www.twitter.com/VaisalaGroup.
More from Fluid & Gas Flow Equipment