Vaisala Presents AUTOSONDE AS41 Sounding System That Offers Remote Flexible Operations
Press Release Summary: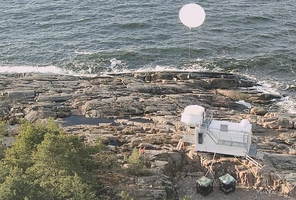 The AUTOSONDE® AS41 Automatic Sounding System is able to launch radiosondes fully automatically and is optimized for RS41 radiosonde. The unit offers continuous high-quality and reliable sounding data. It provides user with safe working environment and enhanced remote control system. The system allows operator to load one radiosonde and weather balloon to the system in only three minutes.
---
Original Press Release:
Vaisala's Next Generation Automatic Sounding System Brings Reliable, High-quality Weather Observations to a New Level
Vaisala, the global leader in the environmental and industrial measurements, introduced today the next generation automatic sounding system Vaisala AUTOSONDE® AS41.
Vaisala AUTOSONDE® AS41 is designed to work reliably even in the harshest of conditions also in the remotest of locations. The system allows fully automated sounding operations with low operating costs, remote flexible operation as well as easy installation. Vaisala AUTOSONDE® AS41 is designed for one-month automation at a time, more than doubling the automation time compared to previous systems. The first deliveries of the new systems are estimated to start in Q1/2019.
Vaisala is the leader in automatic upper air soundings, and has delivered automatic sounding systems to its customers for more than 25 years. Vaisala AUTOSONDE® AS41 strengthens Vaisala's global leadership in upper air soundings even further. Currently, eight out of ten leading national meteorological and hydrological services use Vaisala's automatic sounding systems, which enable them to free resources to safety-critical forecasting operations.
Developing Automatic Upper Air Soundings Together with Customers
"With Vaisala AUTOSONDE® AS41, national meteorological services can extend the coverage of their upper-air networks also to hard-to-reach locations. For 25 years, Vaisala AUTOSONDE® systems have shown how well they perform in a wide range of climates," said Jarmo Franssila, Product Manager for the Vaisala sounding systems. "The new AS41system has been tested in two test sites that were purposefully selected from locations providing windy and harsh conditions. More than 1,000 soundings have been performed in these locations to compare and test different design details that relate to reliability of the system in general as well as performance in high wind conditions in particular."
Vaisala AUTOSONDE AS41® is optimized for Vaisala RS41 radiosonde and able to launch 60 radiosondes fully automatically. The new system provides the customers with high-quality and reliable sounding data continuously. The system provides the users with safe working environment, fast and easy loading as well as enhanced remote control system. 60 upper air soundings can be performed with a work effort of half a day. It takes the operator only three minutes to load one radiosonde and weather balloon to the system. The actual sounding and data transmission is fully automatic.
More information for media:
Vaisala Media Desk
Tel. +358 20 6198800, comms@vaisala.com
Vaisala is a global leader in environmental and industrial measurement. Building on over 80 years of experience, Vaisala provides observations for a better world. We are a reliable partner for customers around the world, offering a comprehensive range of innovative observation and measurement products and services. Headquartered in Finland, Vaisala employs approximately 1,600 professionals worldwide and is listed on the Nasdaq Helsinki stock exchange. www.vaisala.com www.twitter.com/VaisalaGroup.
More from Machinery & Machining Tools