Vaisala Equips Zhejiang Zheneng with OPT100 Transformer Monitor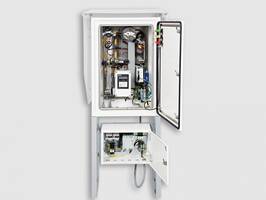 Reliable online monitoring will prolong the service life of transformers and prevent unscheduled outages in Shaoxing, China.
Vaisala, a global leader in environmental and industrial measurement, has supplied leading Chinese power utility Zhejiang Zheneng Electric Power Co Ltd with two of its Optimus OPT100 Dissolved Gas Analysis (DGA) Monitors. The units have been installed at Zhejiang Zheneng's facility in the city of Shaoxing, eastern China, from which it supplies electricity to the province of Zhejiang. The Vaisala technology continuously collects and analyses samples of transformer insulating oil to identify trends in the oil condition that indicate emerging faults that could lead to outage.
Unscheduled power outages are a significant threat for power utilities, resulting in equipment damage, revenue losses, reputational harm and costly reactive maintenance and repair. Vaisala estimates that around half of all power transformer faults can be prevented using online monitoring, to support continuous analysis of the trends in a transformer's health.
At the facility in Shaoxing, the OPT100's analysis of the amount of hydrogen and other key fault gasses in transformer oil was compared with traditional DGA methods, which involves technicians manually collecting samples for analysis in a laboratory - an extensive and time-consuming process. The numerical trend recorded by the OPT100 was found to be completely consistent with the manual sampling results, and were delivered in real-time through a browser-based user interface.
"The OPT100 provides data that accurately reflects the operational status of our transformers - and it never results in a false alarm," said Pan Shenghua, Vice Director of the Equipment Management Department, Zhejiang Zheneng.
"Our long-term testing demonstrated the high-quality and reliable nature of the device, and Vaisala's site personnel showed great attention to detail throughout the installation and commissioning process."
All of the OPT100's components, including its infrared sensors, are manufactured in-house at Vaisala's dedicated cleanroom facilities and based on its proprietary technology. It uses vacuum gas extraction to prevent any unwanted fluctuations in transformer oil data, and the optical components are sealed and protected to prevent the sensors from becoming contaminated. Advanced manufacturing techniques mean the OPT100 unit has no consumables and requires no maintenance or servicing itself. At Zhejiang Zheneng's Shaoxing site, the units were installed and connected to the oil circuit and power supply in under two hours.
"The performance tests carried out with Zhejiang Zheneng confirm the significant advantages that online monitoring has to offer power producers and other utilities, as well as its ability to quickly and accurately assess the condition of transformer oil and help prevent major failures," said Pekka Ravila, Vice President of Industrial Measurements, Vaisala APAC.
"We're delighted that the OPT100 continues to make a positive contribution at the Shaoxing facility, and play a key role in the safe and continuous supply of power to the whole of the Zhejiang province."
More information for media:
Miia Lahti 
Communications Manager, Industrial Measurements, Vaisala
Tel. +358 50 555 4420, Miia.Lahti@vaisala.com
Vaisala is a global leader in environmental and industrial measurement. Building on over 80 years of experience, Vaisala provides observations for a better world. We are a reliable partner for customers around the world, offering a comprehensive range of innovative observation and measurement products and services. Headquartered in Finland, Vaisala employs approximately 1,600 professionals worldwide and is listed on the Nasdaq Helsinki stock exchange. www.vaisala.com www.twitter.com/VaisalaGroup.

For power generation and transmission industry, Vaisala provides unique measurement equipment for online monitoring of transformer insulation oil. Our reliable solutions support in planning and optimizing the preventive maintenance of power transformers, and thus help to extend their lifetime and reduce the risk of unexpected and costly outages.