Vacuum Workholding Table suits wood product manufacturing.
Press Release Summary: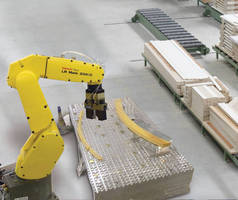 Grid system tables, available in sizes up to 48 x 24 in., form mounting platform for modular vacuum workholding setups that handle any wood design and dimension. Positioning pods, chucks, and locating pins aid in reconfiguration of parts. System operates from ordinary shop air from electrically powered air compressor. It can be integrated with Kurt integrated robot for 3-axis capability in moving gantry CNC router system and supports single- to multi-spindle setups.
---
Original Press Release:

Kurt/NEMI Introduces New Automated Vacuum Workholding Systems for Wood Product Manufacturing Applications



Minneapolis, Minnesota: Kurt/NEMI announces introduction of new automated vacuum workholding systems for wood product manufacturing applications. These systems include a full line of modular components for holding, positioning and repositioning unfinished wood parts in the automated CNC production of doors, cabinets, fine wood furniture and similar wood products.

Included in the vacuum line of workholding are grid system tables ranging up to 48 x 24 inches as standard sizes and table sizes made to customer specifications. These grid tables form the mounting platform for a flexible workholding system. Ideal for use on CNC routers, the vacuum workholding, when integrated with a Kurt integrated robot, provides 3-axis capability in a moving gantry CNC router system. They are designed to work well with a variety of single- to multi-spindle setups for high volume part production assuring precision and repeatable accuracy.

Kurt/NEMI modular vacuum workholding setups can be easily configured to handle any wood design and dimension on the grid system table setup. Utilizing a variety of positioning pods, chucks and locating pins, these setups have the advantages of a dedicated fixture with flexibility for reconfiguring the components to handle various size parts and for use on other jobs. Operating from ordinary shop air from an electrically powered air compressor, these Kurt/NEMI workholding systems provide a rapid cost-payback by reducing labor content and increasing productivity.

"The path to a smarter and leaner wood manufacturing industry is through the use of the latest automated wood processing systems," reports Steve Kane, Kurt sales manager. "These vacuum workholding systems do that. They add value to wood products while controlling costs particularly in the area of labor input. They are completely adaptable to most CNC wood working machines that require workholding."

In addition to automated vacuum workholding systems, Kurt offers a full line of precision machine vise products and custom engineered workholding. Kurt also provides custom gaging and automation integration for a broad range of machining applications. Custom workholding, gaging and robotic integration applications are designed around a customer's requirements with systems available for many industries including woodworking, automotive, medical and aerospace applications.

Interested in more information? Call for FREE brochure in USA and Canada, 1-877-226-7823. Outside USA and Canada, call 1-763-574-8309, or download it from the Kurt website: www.kurtworkholding.com.

Or write to Kurt Manufacturing Company, Industrial Products Division, 9445 East River Road NW, Minneapolis, Minnesota 55433. In USA, Fax 1-877-226-7828. Outside USA, Fax 1-763-574-8313. Email: workholding@kurt.com.

Related