Vacuum Table is designed to reduce cycle times.
Press Release Summary: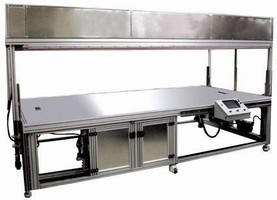 Able to quickly heat/cool parts to reduce cycle times, BriskHeat Vacuum Curing and Debulking Table features heated/cooled lid that raises and lowers vertically to expose entire working surface. Design provides 360° table access, and full-color touchscreen interface allows precise control over ramp rate, soak time and temperature, cooling rate, and automatic vacuum control. Uses include vacuum curing, molding, bonding, hot drape forming, ply compaction, and debulking.
---
Original Press Release:

Take the Composite Curing Challenge!



Vacuum Curing, Molding, Bonding, Hot Drape Forming, Ply Compaction, and Debulking with the BriskHeat Vacuum Curing and Debulking Table

Columbus, OH (June 5, 2007) - BriskHeat understands composite curing and the need for a faster, easier, and a highly consistent process. BriskHeat has officially announced the release of their newly redesigned vacuum curing / debulking table to fit these needs. These tables satisfy the most basic to the most sophisticated process requirements with features like a heated / cooled lid, full-color touch screen interface, and 360 degree table access.

The BriskHeat Vacuum Curing / Debulking Table is the first in the world to feature a heated / cooled lid. Reach soak temperatures quicker by simultaneously applying heat from above and below your object. The advanced cooling system allows you to quickly cool the object reducing cool-down time. Less waiting time means reduced cost and a more efficient process for you.

The easy-to-use full-color touch screen interface allows the user to design a program specific to their needs giving them precise control of ramp rate, soak time & temperature, cooling rate and automatic vacuum control. This feature also allows you, the user, to save and recall programs for a highly consistent process.

The new 360-degree table access design eliminates the hassles of curing and debulking multiple objects or large complex objects by giving the user complete access from all sides of the table. The lid raises and lowers vertically to expose the entire working surface.

Reduce cycle times, reduce costs, improve process consistency, and eliminate the expense of manual bagging lay-ups with the fast and easy one-step set-up of BriskHeat vacuum curing and debulking tables.

"Taking the composite curing challenge is about the industry searching for a faster, more efficient, and more consistent composite process. You can look no further than BriskHeat for a truly easy-to-use and incredibly flexible composite curing / debulking system. BriskHeat has engineered a vacuum table with a cooling system that not only cools and reduces cycle time but has the capability to perform highly advanced processes such as partial cures. Truly a one-of-a-kind machine," explains Jon Burry, application engineer. BriskHeat has been a pioneer and innovator of composite curing and debulking equipment and is proud to introduce its newest edition to the family.

More information can be found at www.briskheat.com/products/vacuum-table.aspx or by calling BriskHeat at 1-800-848-7673.

About BriskHeat: BriskHeat has over 57 years of experience solving and servicing industrial heat applications worldwide. BriskHeat utilizes a proven knit and braid heating technology along with state-of-the-art CNC machines and three-dimensional CAD software to provide top quality solutions for the most competitive industries in the world. Through hard work and industry knowledge, BriskHeat has become a well-recognized and trusted name within the composites community. BriskHeat strives to offer cutting edge, easy-to-use, high quality products that meet the needs of today's composite professional at an attractive price.

For additional information or the nearest BriskHeat representative:
BriskHeat
Phone: 800-848-7673 (U.S. and Canada) 614-294-3376 (Worldwide)
Fax: 614-294-3807
Internet: www.briskheat.com
E-mail: bhtsales1@briskheat.com

More from Electronic Components & Devices